Here are my favourite books for 2008. Some of them are debut novels, others have been released in prior years and a few of them I had read previously. But none of that matters because these are all books I reviewed in 2008. My favourite reads for this year from among the 200+ reviews posted on the blog are: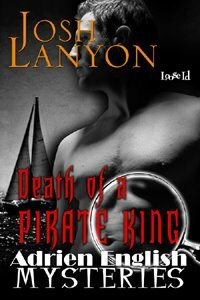 # 1 – Death of a Pirate King by Josh Lanyon. On the surface this book was about a murder and the investigation to find the perpetrator, but it was much more than a whodunit. It was also a story about love and one man's redemption after 4 books which kept fans of the Adrien English series on the edge of their seats. Death of a Pirate King is a tour de force of this series and the author's eloquence is more evident here than in any of the previous books. The personal relationships took center stage in DOAPK and this quote by Lanyon at one point in the story " …. sweet in the way crack must feel hitting the bloodstream of an addict after years of staying clean" — is exactly how I felt about the book and why it's my #1 pick this year.
#2 – The Draegan Lords series by M.L. Rhodes is the epic story of the long battle between the draegans, a race of dragon shapeshifters and their mortal enemy the diabolical ruler of Velensperia. It is also a story about the love between two men, one a draegan, the other half human. Writer M.L. Rhodes opened her imagination full throttle in this book to give readers a veritable feast of all the elements expected in a fantasy including magick, sorcery, love, great battles, adventure and amazing secondary characters . To date this is the best paranormal series I have ever read.
#3 – Bareback by Chris Owen is a story about two cowboys who fell in
love and the emotional mine field they had to navigate when one partner cheated on the other. The characters in Bareback did what many men and women do; they cheat and sometimes they get caught. This story ignited a firestorm when it was first released and still does today. Tor and Jake were probably two of the most memorable characters – tough, uncompromising hell raisers – and they made each other work for every wonderful moment in the book. Kudos to Chris Owen for a brilliant and insightful story which is a powerful testament to how we, as people, always manage to screw up despite good intentions. I have been hooked on gay cowboy stories since I first read Bareback in 2003!
#4 – Soul Mates: Bound by Blood by Jourdan Lane. I read all 4 Soul Mates books this year and BBB is the first story in the series. Jourdan Lane penned an extraordinary story about vampires, werewolves and other species that took my breath away. This book destroyed all my preconceived notions about paranormals and Jourdan approached the series on a scale I have never experienced before – it was like being exposed to a wrecking crew that never let up. I was totally blown away as the author gave it to the readers with both barrels right between the eyes. Bound by Blood is the crown jewel of the Soul Mates series
# 5 – Wicked Gentlemen, Ginn Hale's debut novel is next. Who
didn't love the story of Prodigal Belimai Sykes, and Captain William Harper, a member of the Inquisition? The story is about the search for and apprehension of the culprits responsible for multiple gruesome murders, including Captain Harper's sister, and the deal that Harper made with his own personal demon, Belimai Sykes.The book is also about religious extremists who make up a corrupt authority that stopped at nothing to achieve its ends. This novel was a true masterpiece – the characterizations were flawless and the world building was extraordinary. There are countless other reasons why I loved Wicked Gentlemen but the best one is that Belimai's and Harper's story really moved me.


#6 – Untamed Heart by Ally Blue is an outstanding book about redemption and starting over. This is a story about two men who appear to be beyond salvation – one is an executioner and the other is almost damaged beyond repair, yet they rise above their human failings to love each other deeply, passionately and unselfishly. Ms Blue always gives her readers complex characters in her books but this time I think she outdid herself in Leon and Grim – I was so emotionally moved by them that they broke my heart. Using the savage and stark terrain of Alaska and the natural habitat all around as the setting for this book was a stroke of genius. Untamed Heart rocks!

#7 – The Englor Affair by J.L. Langley is the second book in her sci
Regency series about the continuing adventures of the two Royal families that govern different planets in a futuristic society. The characters made this story come alive as Colonel Simon Hollister and Prince Payton Townsend, those brilliant protagonists, showed their stuff when a major tragedy threatened planet Englor. The plot is intricate, riveting and exciting and the pacing sometimes seemed to be at breakneck speed as would be expected of a story that included political intrigue and espionage, fueled by murder. J.L. Langley is a gifted storyteller who has written stories about many genres, all of which have entertained me this year, but in my opinion The Englor Affair is her best book this year and maybe her best book ever.


#8 – The Assignment by Evangeline Anderson is another memorable book that I read sometime ago but only reviewed this year and as is the norm for all my unforgettable books, while the plot is important it's the characters that made this book special. Detectives Sean O'Brian and Nicholas Valenti had been partners and best friends for six years and their latest undercover assignment had them posing as lovers at a gay resort to catch a drug kingpin, but in the process the faking became real and they fell in love. The Assignment continues to be one of my favourite all time M/M stories. It has everything – two charismatic characters, heightened emotions which add to the suspense, danger, a terrific story with excellent dialogue, wonderful pacing and a plot that held my interest until the very end.


#9 – Paul's Dream by Rowan McBride is an extraordinarily complex story with two completely different protagonists. Paul is a lawyer who is a dream walker at night, solving puzzles or resolving problems of the people he meets in his dreams. Kian is an incubus imprisoned by a cruel Master who uses his life force to enhance his own sexual potency. When Paul shows up in Kian's cell and frees him there's a coldness about him that Kian cannot fathom. The emotionally charged story takes Paul on a journey which ends in a warm and caring human being as he realizes at last that without Kian everything is cold.
#10 – The Mercenary's Tale (tie) by Lynn Lorenz is about the evolution of Lord Drake, and it is one of the most delightful and emotional books that I have read this year. Lord Drake is a mercenary who falls in love with his apprentice and when Ansel loses his life in battle the setting, as expected, is poignant and moving as Drake searches for him on the battlefield among the bodies of men and horses. After 2 years of depression and alcoholism he meets the Duke of Marden, his new love, and his life starts over. The Mercenary's Tale is the first book in the series In the Company of Men and it's a wonderful book in a historical setting.


#10 – Standish (tie) by Erastes is another debut novel, this time a historical book that in my opinion represents the cream of the crop in this genre. I can't say that I "loved" the story because I found it grim, dark, intense, and horrific in parts and the author made no apologies for exposing the reader to the seamier side of the Regency era. Most of the characters had no redeeming qualities but the writing was brilliant and Erastes did an outstanding job of drawing me into the story despite my reservations, which is, in itself, a tribute to her excellent prose. Erastes is an exceedingly skillful writer and this is her first book so I can only imagine what heights she will achieve as a writer in the future.
Honourable Mentions (in no particular order)

Captain's Surrender by Alex Beecroft
Collision Course by K.A. Mitchell
Soul Mates: the series (Deceptions, Sacrifice, Secrets)
Dark Needs by Mychael Black and Shayne Carmichael
Mexican Heat by Laura Baumbach and Josh Lanyon
My Fair Captain by J.L. Langley
Man Oh Man! Writing MM Fiction for Kinks & Ca$h by Josh Lanyon
The Tin Star by J.L. Langley
Adrien English Mysteries by Josh Lanyon
Crossing Borders by Z.A. Maxfield
VGL Male Seeks Same by Rick R. Reed
With Caution by J.R. Langley
The Protector by N.L. Gassert
Lessons in Love by Charlie Cochrane
And The Two Shall Become One by Mychael Black and Shayne Carmichael
Leased 3: The Lion's Share by Jet Mykles
In the Company of Men: Jackson's Pride by Lynn Lorenz
Strongman by Denise Rossetti
Mahape a ale wala'au by Paul G. Bens, Jr.
Calendar Boys August: Scorched –
Jamie Craig
*********
It was really tough to come up with a Top 10 from all of the books reviewed on this blog over the past 8 1/2 months. There were so many deserving books that I wish I could have included. The top 5 were a lock in my mind but I had difficulty with the rest, not with their inclusion but with the ranking, which is an indication of the talented authors who continue to entertain readers, and the number of excellent books that I read this year. Of course I read a number of fun books that I thoroughly enjoyed as well – the Heaven Sent series and One for the Team by Jet Mykles, the Calendar Boys series by Jamie Craig, Check Point by Kit Zheng, Sex, Lies and Celluloid by Chris Owen and Jodi Payne, On Fire by Drew Zachary, and Forgive and Forget by A. Steele come to mind. This list only covers the books that I read and reviewed this year and I'm sure that everyone has his or her own list. What is your Top 5 or Top10? Post a comment on the blog.