Gay Book Reviews Reviewer Ele: Skylar, thank you for agreeing to be interviewed on Gay Book Reviews. Lovers, Losers and You is the second installment of the Sunshine and Happiness series. What inspired you to start this series in the first place?
Skylar: Thanks so much for hosting me!
I was inspired by two things. I liked the idea of exploring friendships and writing a series where the characters shared a house in South Florida. I was also inspired with Here for You by a real life incident. A friend of mine was training for the Aids Ride some years ago, when he was a victim of a hit and run. He survived it, but he was never the same. The idea of how quickly life turns was a theme in that first book.
Question: I feel, and I think I can speak for other readers too, that this was somewhat different from your previous work. Was it a decision you made upfront? To write a heavier and angstier story, or did the characters just start talking to you?
Skylar: They just started talking to me. I was supposed to be working on some other book (still not done yet), when this idea grabbed me by the throat. I abandoned all my other projects to listen. Listening can be the key for some of my best writing.
My goal was that the angst-filled side of the story be realistic and raw, but that there are also moments of joy and beauty.



Question: Are we to expect the second book to be in the same spirit?
Skylar: How could it be, right? There is a horrible tragedy in the first book, and the second book is about recovery to some degree, so it's lighter. When it comes to the series as a whole, I do picture the third book back to some major angst.
Question: Here for You, the first book of the series addresses the issue of sorrow and grief. Was it challenging for you, managing to depict the reality of loss without the romance taking a backseat?
Skylar: It did worry me. I made an effort to balance the two. I was careful to show Cole's attraction to Ian from the beginning. I also needed to show how close they were to Brendan, though, in order to make readers care about his fate.
I'll be honest. There are times I question why I'm tackling these giant things? Why I don't just have a little story where the guy falls for his friend's boss. A little misunderstanding and the book would be done. At the end of the day, though, I think it made Cole and Ian's relationship stronger and more intimate—more romantic—to have gone through so much together. It also allowed me to show the love these friends have for each other. I'll trudge through the emotional muck for that.
Question: So, lets talk about the characters in Lovers, Losers and You. We met Andrew in Here for You, so more or less we know about his situation. We know some things about Owen too. Tell us more.



Skylar: Here's a fun insider moment. I originally contemplated Owen with River. A good friend of mine pointed out the "ick" factor of making that work, and I quickly agreed. (Thank you, Trisha). But I needed somebody with Owen, and I felt like he needed a story. Otherwise, why create this character in Here for You and simply drop him?
Andrew was the only guy in Here for You not so heavily grieving. He was the one who could see Owen for Owen.
Once I got this part lined up in my mind, the rest of their relationship fell together. Andrew wants to be a winner, Owen worries he's a loser. But nothing is ever that simple, right? The struggles with Andrew and Owen came from external forces like time and distance. I felt that was a realistic problem many people face. I liked them both and felt they had great chemistry. I hope the readers will agree!
Question: One thing I particularly liked in the first book, was the sense of family and brotherhood between the guys. Are we going to see more of the gang in this book?
Skylar: Thank you! It is one of the most important aspects of this series for me. I'm thrilled you liked that part!
You will see more. I enjoy returning to other characters from previous books and seeing them change and grow, seeing where life is taking them. It can be a lot to juggle, but I love playing in such a big sandbox. I do plan to give Tomas, Marc, and River full stories too.
Question: I will be honest and admit that I find River to be the most intriguing character and I 've been looking forward to reading his story. You will give him one, right?
Skylar: Yep! He is pretty intriguing for me, too. I'm saving his story as the final piece in the series for that exact reason. It seems right that he goes through some of the grieving stages, though, before he is ready for love. It's adding some pressure on my shoulders to deliver something huge, lol, and I hope it will satisfy the readers who are River fans.
Feel free to chat with me about what you'd like to see. I'm open at this stage to all my readers and their concerns/ideas. Seriously it's hugely motivating to hear from readers who are excited for his story.
Question: Is this book, or any book of yours drawn from personal experience?
Skylar: Yes and no. All of the books have some of my experiences. I have lost people I love, for example. I usually start with one idea, though, that drives the story. It might not be directly from my life.
Lovers, Losers and You began with the idea of exploring how to go from a vacation fling to a real relationship, especially when distance is also an issue.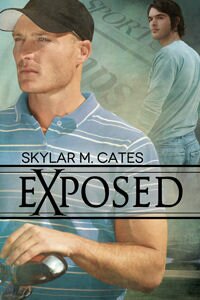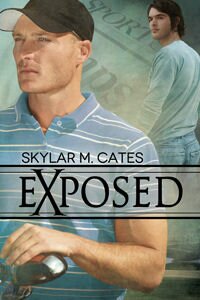 Exposed, my very first novel, began with the idea of a betrayal that is not easy to forgive. I always begin there, with a main idea that drives me.
If my experiences are loosely there, I manipulate it to be different. My mom is a sculptor, for example, and some of the art show scenes are factual, but I changed how Cole would experience it. I would say the feelings are mine. Does that make sense? When I do an emotional scene, I pour a lot of my heart right on the page.
Question: So, what does Skylar Cates like to do when not writing?
Skylar: Tread chaos.
I have young kids and a new dog—you can all imagine the chaos. I have a part-time job somewhere else, too. I worry I'm not producing enough books now and then, and my fabulous husband gives me some wine and reminds me of how much I have on my plate. We relax and ignore our messy house. It's a good life. I'm very lucky.
Question: Name your top five favorite authors and books in the genre.
Skylar: I can't! Sorry!
I love so many authors, and there is so much talent! No matter what author I might name here, I'll accidentally leave somebody out and hurt some feelings.
Let me answer this: There are authors who have helped me and encouraged me. They have beta read for me or been my personal cheerleaders. I'll name a few of them: Cate Ashwood, Leta Blake, Kade Boehme, Mary Calmes, Rebecca Cohen, Shira Anthony, and Lj LaBarthe. The list could go on. I'm blessed with friends in this genre. Other people criticize it and all that, but I have found only support and encouragement. And that goes for the bloggers and readers too!



Question: What other work do you have in progress?
Skylar: I'm finishing book three in The Sunshine and Happiness series (Tomas and Marc). Book four is planned out, but I have not started it.
In other news: I have a co-authored novel with Cate Ashwood that's half-done. We just need to get our crazy schedules together and finish it.
Strangely enough, I also have this werewolf story happening. It's a departure for me, a little kinky fun. Maybe I needed that after the Sunshine and Happiness series? laughs It might be out in 2016.
Gay Book Reviews Reviewer Ele: Thank you!
Author Bio
Skylar M. Cates loves a good romance. She is quite happy to drink some coffee, curl up with a good book, and not move all day. Most days, however, Skylar is chasing after her husband, her kids, and her giant dog, Wasabi. Skylar dreams about spending her days writing her novels, walking along the beach, and making more time for her good friends. On a shoestring budget, Skylar has traveled all over in her early years. Although, lately, the laundry room is the farthest place she has visited, Skylar still loves to chat with people from all around the globe.
Buy Link Amazon ARe Author Website Facebook GoodReads Twitter Ele's Review