Title: Desperately Seeking Santa
Author: Eli Easton
Cover Art: Reese Dante
Publisher: Self Published
Release Date: November 22, 2017
Genre(s): Contemporary Romance, Holiday Novella
Word Count: 225 pages
Reviewed by: Crabbypatty, Lili and Belen

Blurb:
Journalism student Gabe Martin gets his first professional assignment—to write about a Christmas charity dinner that benefits a children's home. It sounds like a total snooze-fest until Gabe learns that the event's Santa is a mystery man. He shows up in costume and no one has a clue who he is. Uncovering his identity sounds like the perfect angle to turn a fluff piece into real, hard-hitting journalism.

Mack "The Mountain" McDonall, at 6'10", is University of Wisconsin-Madison's enormous star wrestler. When Gabe first claps eyes on him at a wrestling match, it's lust at first sight. Gabe's friend, Jordan, sets up the pair on a date. But when Gabe chatters on about his plans for outing Santa, Mack goes cold, and their first meeting becomes an epic fail.

As Gabe researches the children's home, he learns that Mack McDonall has secrets a guy renown for being a brute wouldn't want the world to know. Can Gabe find his holiday spirit, write a killer article, court a surly giant, and give everyone a very merry Christmas?
Buy Links
Buy Link
Amazon Global
GoodReads
Author Bio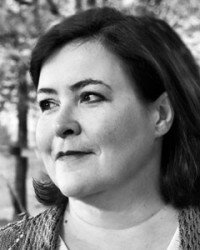 Having been, at various times and under different names, a minister's daughter, a computer programmer, a game designer, the author of paranormal mysteries, a fan fiction writer, an organic farmer, and a profound sleeper, Eli is happy these days writing love stories as a m/m romance author.
As an avid reader of such, she is tinkled pink when an author manages to combine literary merit, vast stores of humor, melting hotness and eye-dabbing sweetness into one story. She promises to strive to achieve most of that most of the time. She currently lives on a farm in rural Pennsylvania with her husband, three bulldogs, two cows, pot belly pig, and cat.
Website
GoodReads
Twitter
tumblr
Facebook
More Author Reviews
More From Eli Easton