Title: I Heard Him Exclaim
Author: ZA Maxfield
Publisher: Carina Press
Buy link: Amazon.com
Genre: Contemporary Romance
Length: Novella (33,700 words)
Rating: 5+ stars out of 5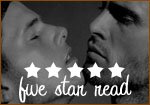 A Guest Review by Aunt Lynn
One Sentence Review: A great read about two men finding each other when they need it most.
THE BLURB
Who Likes a Skinny Santa?
Steve Adams's heart hasn't been in the Christmas spirit ever since doctors put a stent in it and ordered him to clean up his act. No longer filling out his Santa suit or allowed to make merry, he's forgoing the holidays this year and heading to Vegas to indulge in the few vices left to him: gambling and anonymous sex.
His road trip takes a detour when he encounters Chandler Tracey, who's just inherited guardianship of his five-year-old niece. Overwhelmed, Chandler's on his way to deliver Poppy to his parents. But fate has other plans and, after car trouble, Chandler and Poppy accept a ride home with Steve. Though the heat between the two men is obvious, they put it on simmer while they band together to make Poppy's Christmas as perfect as possible.
Steve soon comes to believe that while Chandler is the right person to look after Poppy, someone needs to look after Chandler. Fortunately, Steve knows just the man for the job.
THE REVIEW
I Heard Him Exclaim is ZA Maxfield's wonderful contribution to Carina Press's His for the Holidays anthology. I thoroughly enjoyed this sweet and gentle romance about two men who save each other, which has strong themes of family, trust and change, and it felt very realistic to me in ways that some recent reading just hasn't been.
Steve is on his way to Las Vegas for Christmas, blowing off his very large and boisterous family and his tradition to play Santa for the first time ever. He just isn't in the spirit this year; after a cardiac scare resulting in surgery almost twelve months prior, he was forced into getting in shape by, among other things, cutting out the things he loved in life — great food and smoking. Yeah, he lost half of his body weight, but what's the fun in life if he can't enjoy it? At a rest stop, he meets Chandler and his young niece, Poppy, when they have some car problems on their way to Chandler's parents' house. Chandler needs some help taking care of Poppy; he is the new guardian of the child after her parents died, and he is ill-prepared. He hopes his parents can be the helping hand he needs. The two men have immediate attraction, and after some unexpected news that prevents Chandler from going any further on his trip, Steve invites the man he just met — and Poppy — to his place and the craziness that is the Adams Family Christmas. Could this be just what both men need to make their lives better?
This is a very character-driven tale, with two lost souls finding each other just when they need it most. In some ways, these men have a lot in common: they both are feeling the effects of human mortality, have fears about their current lives and desires of things they don't have.
I loved Steve, and in many ways Steve is me if I were a hot, white-haired, 6'4" dude. 🙂 I am in the process myself of making some "healthy lifestyle changes" and I am finding that it is sapping some of the joy out of me as well. Steve talks about this on and off throughout the story:
It seemed a terrible irony that in order to save his life, he'd had to give up the very thing that gave it meaning.
Word. Seriously, can I have just a little honey in my tea, or am I going to turn into a pile of smoking ash the minute my lips touch the mug rim? 🙂 I also need to be needed, am a helper by nature and don't take compliments well, just like Steve. I would totally do what he did for Chandler and Poppy, even going so far as dragging a stray or two home. I loved him for being willing to jump in even knowing that Chandler obviously comes with baggage, one of which is tangible. He blows Chandler away with what he does:
"You saw exactly what I needed and gave it without asking for anything in return. Who does that?"
And he totally charmed me, with how he easily blushes and gets totally in the holiday spirit — and light competition — once they get back to his place and puts on the suit and goes all over town in his 1970 Rudolph-red muscle car as the Jolly Elf. Poppy is right — he is Santa Claus.
I completely felt for flawed Chandler, immersed in grief over the loss of his brother and best friend, overwhelmed with unexpectedly having to take care of Poppy, filled with feelings of inadequacy, laden with guilt over doing what he planned to do and the selfishness of it all by going against his brother and sister-in-law's wishes, and worried about what other people with think about a single gay man raising a child. Nervous and tense all the time, he doesn't even know what he needs until Steve puts it all on the table before him.
I liked that it was both very easy and challenging for them to get together. Easy in that there are tons of chemistry and a quick friendship between them, that it is natural for Steve to just offer to take Chandler and Poppy home for the holiday as if he does it every day, that Steve's family automatically jumps in to help. It's also challenging in that Chandler has issues that threaten both his relationships and his ability to take care of Poppy. But Steve also adds some obstacles as well; he is worried about their ten-year age difference and that he may not be able to be what Chandler wants in a guy.
Themes of family, trust and change are prevalent throughout the story. Family is important to both men, and I loved that most of Steve's large family lives in the same neighborhood, allowing for the "village" approach to raising the multitudes of kids. It made me long for the same.
Trust is also a big part of the story, with Chandler allowing a complete stranger, Steve, to help them, give them a ride, then going home to his house, trusting that they were safe with Steve. Steve often says to Chandler "You're safe with me," and "I'll take care of you," and "Let me help you." That theme carries over to Steve's family as they pitch in to help take care of Poppy for the weekend, providing some distraction and respite for Chandler. It also comes in for Chandler to learn to trust himself to do the right thing for Poppy. Finally, it comes in the form of some dominance games the two men play, with Chandler liking Steve to…drive, as it were, and a bit forcefully at that.
Both men have gone through serious, life-altering change in the last year and the much of the story is about them dealing with those changes, another theme. Steve has had not just his appearance transformed, but his day-to-day habits as well, making life not very happy for him. And Chandler has had a child dropped in his lap, throwing his entire life out of whack, and he is not dealing well with the changes his new role requires.
My single niggle, and this is very minor and totally subjective, is that ZAM used the term "Gods," instead of the singular "God," for exclamation. So "Gods, yes," or "Oh Gods" seemed very awkward and unnatural to me. And both of them used the term, which just made it doubly odd for me. I don't know anyone who speaks like that and it was distracting.  Again, this may just be something that I would notice and be bothered by.
OVERALL
Another wonderful offering by the talented ZA Maxfield. Highly recommended for those looking for a sweet, holiday-themed novella.