Title: Icecapade
Author: Josh Lanyon
Publisher: Carina Press
Buy Link: Amazon.com
Genre: Contemporary M/M Romance
Length: Novella (60 PDF pages)
Rating: 5 stars out of 5
A guest review by Tj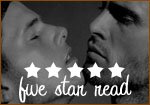 Summary Review: A very well written, surprisingly amusing and clever game of cat and mouse between an ex diamond thief and the FBI agent who he gave the slip to 10 years prior, after one very hot night together. Icecapade is part of the Carina Press anthology His for the Holidays.
The Blurb: On the eve of the new millennium, diamond thief Noel Snow seduced FBI special agent Robert Cuffe, then fled into the dawn. Now a successful novelist, Noel uses his capers as fodder for his books, and has modeled his hero's nemesis (and potential love interest) on Cuffe. Though he leaves Robert a drunken phone message every New Year's Eve, Noel hasn't seen or heard from him in a decade.
So he's thrilled when his former lover shows up at his upstate farm one Christmas Eve. Elation quickly turns to alarm when Robert accuses Noel of being responsible for a recent rash of diamond heists. Robert is all business and as cold as ice:  it seems his only interest in Noel is to put him behind bars.
Innocent of the crimes, and still as attracted as ever to the oh-so-serious lawman, Noel plans a second seduction—providing he can stay out of jail long enough!
The Review: I suppose I must offer a disclaimer for this review. I have been a fan of Josh Lanyon's writing for over a decade and have read every book that he's published – many, many times. Alright – yes, some might call me a Fanyon or a Lanyonite, but I prefer to think of myself as a very lucky man to have stumbled upon this talented author so many years ago. Having said that, I fully admit that I am probably somewhat biased in regards to his work, but I will do my best to keep the gushing to a minimum.
So now to the review… I LOVED THIS BOOK! Period. Buy it now! Not enough? Okay, I'll write some more. Jeez you people are demanding! Icecapade is very well written, with clever dialog, interesting characters and Josh's requisite beautiful prose. I know, I know, you doubt my objectivity now, but hey, after all these years of writing, Josh had better be darn good at what he does.
With the dawn of the millennium, diamond thief Noel Snow wakes to find himself face to face with the sleeping form of FBI Special Agent Robert Cuffe at his side. It seems that Noel and Robert had been playing a game of cat and mouse for the past two years, with Cuffe believing himself the cat, but the tables had been turned, and Noel got his man – so to speak. And now he must make a fast getaway with his ill gotten goods, before Robert catches on to him.
Flash forward to the present day to find Noel wrapping up a book signing, where we learn that he has been writing a series of books about a diamond thief and the plodding police detective that he cleverly outsmarts. Hmmm, art imitating life? Perhaps, and not in a flattering way. We also learn that because of these books, Robert Cuffe's career was impacted in a negative way.
The next morning, Christmas Eve, dawns like a traditional snowy white Christmas card, but Noel's Christmas present is not quite what he expected. On his front porch is none other then the man himself, Robert Cuffe looking to interrogate Noel on some recent jewel thefts. Does he never give up? Noel has been out of the business for many years, but here stands his nemesis in all his hotness, seemingly with a score to settle. Now things get really interesting.
Josh's Lanyon's characters are, as one expects from his books, well developed, multi faceted, flawed, and maybe a bit quirky, but that's what makes them seem oh so real. I immediately liked Noel from page one. Then once Robert showed up on Noel's doorstep, I was really intrigued with how they were together. There is this wonderful undercurrent of attraction that Noel can feel, which keeps the reader on edge, wondering if they'll act on it.
I would be remiss if I didn't mention the dialog. Josh Lanyon writes the most wonderful dialog. It is always understated, very subtle, but yet tells so much. In Icecapade it is all that and also very entertaining. I had a stupid smirk on my face as I was reading much of it. Noel and Robert banter back and forth like an old Tracey/Hepburn movie. I loved this line as Robert gives Noel a dig for using his persona in his books:
"Before you start spreading the bullshit too thick, don't forget who you're talking to. In real life, the other characters get to have their own ideas—and their own say."
There are accusations from Robert, of Noel's involvement in this new series of burglaries, and the denials from Noel. And beneath it all there was something more going on:
"And yet…maybe it was that underlying mockery, as though Cuffe was enjoying a joke Noel wasn't in on. Maybe it was the glint in his dark eyes. Nothing so friendly as a twinkle, but too sharp and hungry to be mere professional interest. Noel remembered that glint from a long ago New Year's party just for two."
And you wonder why I love Josh Lanyon's books? Oh ye of little faith.
Their amusing banter serves as the soundtrack to what turns out to be an atypical day at Noel's farm. There are some quirky secondary characters in Noel's neighbors, who add some amusing color, and force Noel and Robert to deal with each other and face their issues.
I could go on and on, so let me just say that if you're a fan of Josh Lanyon's work, you will love this book. If you're a fan of interesting characters, clever dialog, and well written prose, you will also love this book. Everyone else, you might not think you'll love this book, but it's well written and you should give it a shot. Josh Lanyon may just surprise you.