Title: Love Ahead: Expect Delays
Author: Astrid Amara
Publisher: Loose Id
Buy link: Amazon.com
Genre: M/M contemporary romance
Length: Novella
Rating: 5+ stars out of 5 DIK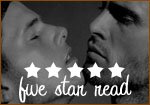 A guest review by Jenre
Summary Review
I can't recommend highly enough this excellently written 'road movie' book with a seasonal twist.
THE BLURB
Austin thinks driving a 1989 Geo Spectrum fourteen hundred miles in the middle of winter is a bad idea. But he would never forgive himself if the man he loved, Zach Roth, got himself killed in Idaho, so he agrees to go.
Besides, he has something to prove. He wants Zach to know it's more than just Zach's deliciously wicked body he adores. And if it takes spending Hanukkah in Zach's grandma's old hatchback to prove it, then so be it.
Ever the optimist, Zach believes everything will turn out for the best. But bad weather, robberies, blown gaskets, run-ins with the police, and motel bedspreads of questionable cleanliness seem to conspire against them, and they may need eight days of miracles just to keep each other…and their romance…alive.
THE REVIEW
Family duty has led to Zach agreeing to drive his Grandmother's ancient car over a thousand miles across country to her new home near Zach's parents. Austin, Zach's mechanic boyfriend isn't too impressed with the rustbucket, especially when it blows a gasket and strands them in Idaho. It turns out that a car needing repair is the least of their worries on this trip, leading to the pair having to face up to where their relationship is heading.
I love road movies and books and so when I saw this one at Loose Id, I knew it was going to be winner, especially when coupled with Astrid Amara's excellent sense of pace and timing. Like all good road books, the story begins on a note of hope. Zach is taking Austin to meet his parents and to celebrate Hanukkah together as a family. Then as the story progresses, more and more things go wrong for the pair and the story focuses on how the men react to each situation and to each other during that time. In the deft hands of this author it was all done very well with a good mix of humour, drama and scares which kept my attention throughout the book and I found it very difficult to put down.
Another thing I really liked about this novella was that it begins at the point when many books stop. Zach and Austin are six months into their relationship and all the meeting, getting to know and, in the case of Austin at least, the 'I love yous' have been said. The men are still in the lust-ridden stage of wanting to jump each other's bones all the time, but that is tempered by a knowledge of each other's bodies. It's more than lust though, as Zach muses towards the beginning of the novel:
It was a relationship worthy of gentle coaxing, something built with care and consideration.
They've also reached a point of needing to move forward in the relationship, as is shown by Austin pushing for him and Zach to move in together. This is a big step for Zach who has had some bad relationships in the past, and during the book we are shown Zach's fears about Austin when compared to his previous lovers. I thought that the author had done a good job of balancing both Zach and Austin's thoughts and feelings so that I was sympathetic to both points of view. I quickly became invested in both characters and wanted the best for both. I particularly liked that the problems were resolved through the men opening up and talking to each other, rather than either character changing their personality. There's an acceptance of each other as they are which I found very romantic, leading to a very satisfying conclusion to the story.
One final thing to say about this story is how much I enjoyed the writing. It was novella writing at its best with every word used for a purpose. Every emotion, description and action was deliberately placed to give emphasis to the story, move the plot forward or add to character. There were several times during reading when I just had to stop and re-read paragraphs because I was so impressed with the way the words had been used or how something had been described so succinctly. Take the following passage:
Zach approached the garage with an eager expression. Austin felt crushed. He hated breaking bad news to anyone, but for some reason it was worse with Zach because of his natural optimism. He loved that about Zach, loved the way he could take a positive message from even the saddest movie, but it always fell on Austin to crush the dreams of the hopeful when it came to cars.
It says so much about how Austin feels about Zach, but it also shows that Austin still has a lot to learn about Zach because through Zach's earlier viewpoint we have learned how much Zach hides his insecurity and anger from Austin and puts on this optimistic face. Later we learn why this is, but this quote shows a moment of poignancy for both Austin and the reader. Marvellous.
I could go on much longer about all the wonderful things about this novella. For example, the fact that most of the book is about these men and their relationship with few secondary characters to distract us from that relationship, leading to an intensity which suits the short format; or how the themes of commitment, family and trust are cleverly interwoven through the story. All that remains for me to say is that if you're looking for a well written, character based romance then I urge you to read this book. I think it will be one that I read again and again.