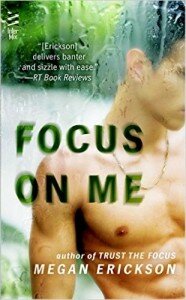 Title: Focus on Me (In Focus #2)
Author: Megan Erickson
Publisher: InterMix
Release Date: July 21, 2015
Genre(s): Contemporary
Page Count: 204
Reviewed by: Gigi
Heat Level: 5 flames out of 5
Rating: 5 stars out of 5
Blurb:

Colin Hartman can now add college to his list of failures. On the coast-to-coast trek home from California, Colin stops at a gas station in the Nevada desert, and can't help noticing the guy in tight jeans looking like he just stepped off a catwalk. When he realizes Catwalk is stranded, Colin offers a ride.

Riley only intended to take a short ride in Colin's Jeep to the Grand Canyon. But one detour leads to another until they finally find themselves tumbling into bed together. However there are shadows in Riley's eyes that hide a troubled past. And when those shadows threaten to bury the man whom Colin has fallen in love with, he vows to get Riley the help he needs. For once in his life, quitting isn't an option…

Another cute-boy road trip tale from Megan Erickson! The first book in the series, Trust the Focus, was an absolute delight and I actually think I liked this one more!
Colin Hartman is a guy on his way home to North Carolina from California with his tail between his legs after flunking out of college his Junior year. Early in his cross country trip, he sees a lost looking young man he nicknames Catwalk because of his striking good looks. Catwalk seems to be at the end of his rope and needs a ride. Colin offers him that ride in his green Jeep named "Butch" and their adventure begins.
Colin's sister always told Colin that he had a "caretaker" gene and that explains why Colin makes it his mission to turn Catwalk's (real name Riley) blue mood into one filled with joy and humor. He ends up stopping with Riley at several different landmarks that Riley has on his bucket list. Colin sees a lot of sorrow in Riley and their adventure seems to be helping put a smile on Riley's face.
Since this story is told from Colin's point of view, there are a few things I will purposely leave out of this review because I feel it is important for the reader to discover things along with Colin. Things about himself and especially about Riley. Colin falls in love with Riley and things get serious between the two men pretty darn fast. Colin's caretaker gene is in overdrive and you can't help but fall in love with him. You're gonna fall in love with Riley too and want to bring him home and feed him some delicious pot roast that will stick to his ribs.

Colin and Riley are wonderful characters and it was fun watching them mature in the short time they were on their road trip. This book ended up being extremely emotional for me and was so much more than a regular M/M romance with good sex, a touch of angst and a HEA. But, of course these boys
do
get a HEA and it is the stuff of baby bunnies, rainbows and cotton candy. And the sex?
HOT!
Just perfection.
I can HIGHLY recommend Focus on Me to all M/M Romance fans. You will definitely get more than you expect from this one and the epilogue will make you want to sing with glee.
Sidenote: The way Megan Erickson linked the first and second book together is pure genius. Very original and satisfying and it was so nice to see Justin and Landry again. #JusLan

Buy Link Author Link GoodReads

In Focus Series