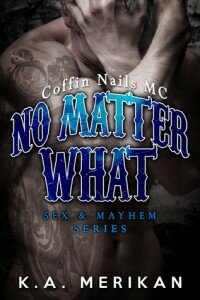 Title: No Matter What: Coffin Nails MC (Sex & Mayhem, #4)
Author: K.A. Merikan
Publisher: Acerbi & Villani ltd
Release Date: April 25th 2015
Genre(s): Contemporary
Page Count: 176
Reviewed by: Ele
Heat Level: 5 flames out of 5
Rating: 5 stars out of 5
Blurb:

— A gentle heart has no place in an outlaw's chest —

Ghost. Not a member of the Coffin Nails MC. Not a doctor anymore. Not gay.
Luca. Bent, not broken. Will not let go of Ghost. No matter what.

Ghost finds out the hard way that people you meet online aren't always who they seem to be. When he met 'Zara' five years ago, they became inseparable. She's been with him through the rough and the smooth. He's been there for her when her abusive boyfriend had her in tears.

She is The One, and despite all his friends considering him crazy, Ghost is about to propose.

But 'Zara' turns out to be Luca, and Luca is most definitely a guy. Yet Luca is the same person with big dark eyes, so desperate to be saved that Ghost can't help but fall head first.

Luca's so-called boyfriend is not just abusive. He is a Sicilian drug lord, a man dangerous and ruthless. If Ghost is to ever save the person who wreaked havoc on his heart, he has to make a deal with the Coffin Nails MC. But being a member is a destiny he's always tried to avoid. And when a life of violence becomes too much to bear, he might be the one needing Luca to catch him when he falls.
POSSIBLE SPOILERS:
Themes: Outlaw motorcycle club, criminal activity, hurt/comfort, abuse, catfishing, independence, sexual orientation issues, mafia, PTSD
WARNING: Adult content. Explicit gay sex, strong language, violence, potentially triggering sexual abuse scenes. Reader discretion advised.

Ghost
"I will always be there for you. No matter what."

Ghost is the son of a member of the Coffin Nails MC. He lost his medical license when he broke the law to save someone else's life .For the last five years the only person who keeps him sane is Zara, the girl he met online. When Zara visits New York with her abusive boyfriend, Ghost takes the chance to meet her face to face for the first time. But what happens when he finds out that Zara is actually Luca, a guy?

Luca
"I love you forever… , I'll go with you wherever you want to go."
Luca's online chats with Ghost are the only thing that helps him survive the abuse of his drug lord boyfriend. So he lies about his gender. When he least
expects it , Ghost is there to catch him despite his lies.
But nothing comes for free and if they want to be with each other and safe they will have to pay the cost.
I have to say that I'm very pleased and actually relieved with the way Ghost's sexuality was handled. I believe the story would really lack realism if this was a GFY case. But Ghost is actually bisexual and has always been attracted to men, which explains why he didn't question his feelings and why he was so quick to go after Luca despite having just found out he is a guy
The fourth book of the series carries all the familiar K.A. Merikan traits with one substantial difference. For the most part of it is a sweet book. Yes, Ghost and Luca are surrounded by violence and death, but this has nothing to do with who they are. Ghost is a doctor, he heals people , he doesn't kill them. The life of a MC member doesn't suit him. Luca needs safety and love since abuse and violence is all he has ever known.
So, if you want badass characters like Stitch or Tooth, look elsewhere. These guys are all in from the get go. They love each other and don't hesitate to tell and show it.
Their HEA is the only HEA I would want them to have.The one that keeps them together but let them be themselves.
Favorite moments:
-Tooth and Lucy moments. All of them! I am happy we got a healthy dose of these two.
-Impossibly funny situations , like a body dropping from a window next to you while kissing your boyfriend because Tooth does not want to get his clothes dirty.
-The villain, coming straight from Guns & Boys. I want to slit his throat and feed him to the dogs.
-Parts of the online chats the boys had between chapters, starting from when they first met to the day they saw each other in real life.
-The sex scenes. I don't even have words.
-Action. Of course, there have to be action. Not as much as in the previous books, but enough to suit this story.
So overall I enjoyed this a lot and there is plenty more to wait for, like a smoking hot ginger and Grim's eggplant story.
Sex & Mayhem Series

Buy Link Amazon Global Author Link GoodReads More Author Reviews