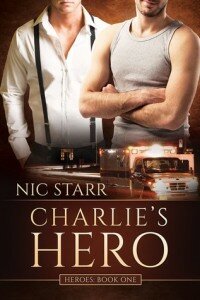 Title: Charlie's Hero (Heroes #1)
Author: Nic Starr
Publisher: Dreamspinner Press
Release Date: June 17, 2015
Genre(s): Contemporary
Page Count: 200 pages
Reviewed by: Kristin
Heat Level: 3 flames out of 5
Rating: 3.2 stars out of 5
Blurb:
Schoolteacher Charlie Matthews returns to his hometown, looking to regain a sense of community, reconnect with friends, and settle down. It looks like his dreams have come true when paramedic Josh Campbell attends an accident at the school. It's love at first sight, and a romance begins. But Josh's reluctance to come out to the brother who raised him, puts pressure on their fledgling relationship. While Charlie understands Josh's concerns, he can't help growing impatient. After all, Charlie came out years ago. It's not until Charlie confronts his own parents and realizes he hasn't come to terms with their rejection that he fully understands what Josh has to lose. But Josh is Charlie's hero, and Josh will do anything to prove to Charlie that to be part of a family, he doesn't need his parents.
This story had a solid plot and good character building that was pulled down by the "perfectness" of our main characters good looks and the continual reminders of just how good they looked.
The plot was the strength of this book – it was well thought out, pulled me along, emotionally engaging, and had just enough secondary characters to keep the storyline from going stagnant. It was also refreshing that the secondary characters were not what I consider "the cookie cutter characters" – no giggling and emphatic girl best-ie, no gay couples offering sage advice or shoulders to cry on; just a solid long-term friend and a brother. I appreciated that the sex was scene and situation appropriate and it wasn't a relationship built on tumbling into bed.
The character building was good up until a point. The disparate backgrounds provided a nice contrast to the growing relationship. As I mentioned above, where the book popped me out of the story was almost Ken-doll like descriptions of both characters: how ruggedly good looking, tall, strong and handsome, with square jaws, chiseled abs and tight little asses. Too much perfection for me – I was beginning to crave some little love handles.
The one other aspect I struggled with was Charlie: he knows firsthand how painful coming out can be from the total rejection of his parents when he told them. We know Josh isn't fully out of the closet – his brother doesn't know (though Josh being 28 and not bringing girls home should be a big clue) but the guys at work do, and Josh is comfortable with PDA's with Charlie. My problem was again with Charlie: he says he supports Josh's decision to come out to his brother in his own timing and method, but then turns around and demands he come out as soon as possible on the other. So which is it? Is Charlie supportive and understanding of the circumstances…or not? I thought that was an incongruous character flaw.
Despite my grumbles, I recommend Charlie's Hero as a solid and engaging read with a just the right touch of heat.
Heroes Series

Buy Link Author Link GoodReads