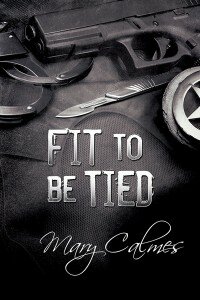 Title: Fit to be Tied (Marshals #2)
Author: Mary Calmes
Publisher: Dreamspinner Press
Release Date: September 18, 2015
Genre(s): Contemporary/Military/Law Enforcement
Page Count: 244 pages
Reviewed by: Gigi
Heat Level: 5 flames out of 5
Rating: 5+ stars out of 5




Blurb:
Deputy US Marshals Miro Jones and Ian Doyle are now partners on and off the job: Miro's calm professionalism provides an ideal balance to Ian's passion and quick temper. In a job where one misstep can be the difference between life and death, trust means everything. But every relationship has growing pains, and sometimes Miro stews about where he stands with his fiery lover. Could the heartstrings that so recently tied them together be in danger of unraveling?

Those new bonds are constantly challenged by family intrusions, well-intentioned friends, their personal insecurities, and their dangerous careers—including a trial by fire when an old case of Miro's comes back to haunt them. It might just be enough to make Ian rethink his decision to let himself be tied down, and Miro can only hope the links they've forged will be strong enough to hold.
Miro and Ian and back! This is the sequel to the 2014 fan favorite All Kinds of Tied Down, which is on my best-of-2014 list, and I was so excited to read more of Miro and Ian's adventures.
The book opens with a foot chase, which I loved since that is how book 1 opened. The boys are up to their usual shenanigans, but there has been a subtle change in Ian's gung-ho bravado.
I knew it was because of me. Because I loved him, because he had a home, because he was no longer a stray, it wasn't necessary for him to win at everything anymore. He didn't have to be the scariest and toughest. He could be himself, not only strong and brave, but also kind and gentle.
The love and sense of partnership is as strong as ever and downright swoon-worthy. The sex is ridiculously hot and the emotions plentiful.
I lunged at him, hugging him tight, crushing him against me as I pressed my lips to his ear. "I love you, Ian Doyle. Only you, and every time you go away it fuckin' kills me. I don't ever want to us to be apart."

Pressing along his back, hand on his shoulder so I could drive into him and hold him still at the same time, I ordered him to grab his dick and jerk off. "Miro—" "Now!" I roared, demanding his submission.
Ms. Calmes does put her sadistic-bitch hat on to give us a new mystery that causes our boys deep pain and sorrow.
Spoiler

Serial killer Dr. Craig Hartley escapes prison and, given his obsession with Miro, the boys are sent to Phoenix under assumed names until he can be caught. Of course sneaky, sadistic Hartley finds and kidnaps Miro and tortures him in a most gruesome manner. It's hard to read folks! Definitely not for the squeamish.
This is such a perfect sequel and I loved it just as much as the first book. This is not to be missed by anyone who has already read All Kinds of Tied Down and if you haven't read All Kinds of Tied Down yet, get on that and then read this sequel.


HIGHLY, HIGHLY RECOMMENDED
Marshals Series

Buy Link Author Link GoodReads