Gay Book Reviews Interview of K.A. Mitchell
Gigi: Thank you for taking the time to answer some of our questions Ms. Mitchell!
K.A. Mitchell: Thank you for asking me such awesome questions.
QUESTION: Your newest series, Ready or Knot, focuses on gay couples and their nuptials. How much of the recent Obergefell v. Hodges SCOTUS decision to legalize same-sex marriage influenced this series?
ANSWER: Ha! I wish I could write that fast! I've been thinking about this series for a few years now. I wanted to write something that led toward a bang at the end, planning the series instead of just having the books come up as characters got noisy. Since the first scene for the last book came to me as happening at a wedding, the theme spilled from that. Though marriage is the linking theme, what it means and why do it is different for each of the couples in the books.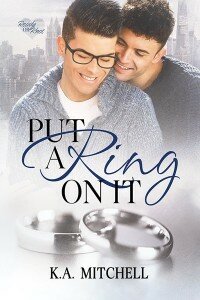 While I was working it out in my head, I called the series "Four for Fourteen" because there were four characters, and I hoped that the both the books and marriage equality would be in place in 2014. That didn't quite work out. The deadline for the second book was a few days after the Obergefell decision was issued. My mom called me up to congratulate me and my wife on the day of decision, and I had such book brain all I could think of was, "Yes I know, thanks, good timing for my books." *facepalm* Truth be told, despite proposing to my wife around the turn of the century, I really didn't think our marriage would ever be legal everywhere in the U.S. I'm honored by the work put in by these other couples for us all.
QUESTION: In book one of the Ready or Knot series, Put a Ring on It, Theo and Kieran and left with a sweet HFN ending. How much of these two will be featured in the next book in the series? Will we eventually see their HEA?
ANSWER: Because I like to make myself crazy, book one, Put a Ring on It, and book two, Risk Everything on It, have overlapping timelines. Book two starts five months before Put a Ring on It and ends a couple months after. So Kieran and Theo are mostly off-stage in Risk Everything on It, but they're solid, and it's all hands on deck for the third book of the series, which takes place after the first two. I think Theo will be extra glad to have Kieran with him, once book three gets rolling.
Kieran chimed in and wanted to leave you a message.
God, do I have to say it every five seconds? SPOILER FOLLOWS:

Spoiler

I put the ring on his finger. I would never have done it if I didn't mean it.
GIGI: I love Grumpy Kieran.
QUESTION: Book two in the Ready or Knot, Risk Everything on It, series will feature Theo's good friend an closeted actor Jax Conlon. Any secrets you can spill about this couple? Do you have a release date?
ANSWER: Risk Everything on It is scheduled to release in January. There is a meet cute, and you get to see glimpses of Jax's take on things that happened in Put a Ring on It, though I don't rehash anything. The chemistry between him and his guy—man, they could not keep their hands off each other—had me overheated. I can also tell you that as crazy as things went for Theo with his Valentine's Day surprise, at least it didn't leave him barefoot at a bustop in Queens.
QUESTION: Is there a character in the new series that you identify with more than usual?
ANSWER:

I think I would have to say Jax. We both use humor to deflect and diffuse tension and we both hate conflict. We want things to be nice all the time. We want our friends to get along.
Jessewave: We opened up questions from readers and they all want to hear about some of your past characters!
READER QUESTION #1: Will we ever hear more from Trey and Danny of CHASING SMOKE fame?
I never say never, though I don't have any plans for them at present. Though I dug them out for you so we could see what they're doing and I'm going let Trey talk.



ANSWER: Hey, thanks for asking. We're good. Just got back from fishing, though we also spent a lot of time in the cabin. It was our honeymoon. I proposed to Danny (mostly because I could tell he was spending so much time chewing on it in his head.) We had a Northampton County Judge do the service in the courthouse, quietly, with just his friends Ginny and Joanna as witnesses. I know his mom was hurt, and I tried to talk to him about that, that it would be easier to invite her, but he didn't want his family turning it into "a goddamned circus" in his words. I'm happy. And Danny gives me that grin often enough that I think he is too. At least he's sold on marriage so much that he wants his friend Ginny to do it "before Joanna comes to her senses. Again," he says.
READER QUESTION #2: Are planning on continuing your Bad in Baltimore or Ohio books series?
ANSWER: I definitely am planning to continue. On my schedule I have two more books definitely planned and two novellas/short stories. After I finish the third Ready or Knot book, I'll be working on a Bad in Baltimore one that is a major angstfest.
READER QUESTION #3: Which, of all your characters, was the hardest to write and why?
ANSWER: Without question,

Jack Noble in Not Knowing Jack. Even with characters who are villains or total dickheads, I know why they're doing what they're doing. They have reasons that make sense to them, but I usually don't spend too much time in that character's point of view. I knew why Jack acted the way he did, and I sympathized with him, but writing him made me crazy. I had a little doll whose neck I could wring when I wanted to do that to Jack. But Tony adores him. And that's good enough for me.
READER QUESTION #4: Who is your favorite character from your books?



ANSWER: I've always thought I might love it if Cade and Elliot from Hot Ticket could move in next door. But if I had to pick one favorite character, it would be Jae Sun Kim from No Souvenirs. I love his snarkiness and his assertiveness. I love that he acts like nothing touches him, but underneath is this incredibly vulnerable man. He is afraid of his own version of the world. Writing him, I snorted laughter, cried and wanted him to be my best friend. I'd still like a pocket version of him to spit out exactly the right comeback when I'm stymied.
Jessewave: Thank you so much for taking the time to answer our questions Ms. Mitchell, and best of luck with the new series!
Thank you!
Buy Link Gigi's Review Website Facebook tumblr Twitter