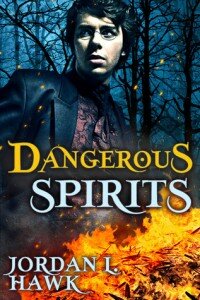 Title: Dangerous Spirits (Spirits #2)
Author: Jordan L. Hawk
Publisher: Widdershins Press LLC
Release Date: September 15, 2015
Genre(s): Paranormal, Historical
Page Count: 157
Reviewed by: Alissa
Heat Level: 5 flames out of 5
Rating: 5 stars out of 5
Blurb:

After the events of Reyhome Castle, Henry Strauss expected the Psychical Society to embrace his application of science to the study of hauntings. Instead, the society humiliates and blacklists him. His confidence shaken, he can't bring himself to admit the truth to his lover, the handsome medium Vincent Night.

Vincent's new life in Baltimore with Henry is disrupted when a friend from the past asks for help with a haunting. In the remote town of Devil's Walk, old ties and new lies threaten to tear the lovers apart, if a fiery spirit bent on vengeance doesn't put an end to them first.

5 stars I loved every minute of it!
I have a confession. I might have the tiniest of girl crushes on Jordan L. Hawk. Her Whyborne & Griffin series is in my top 5 of all time. She is my go-to, one-click author. So it isn't much of a surprise that I enjoyed the hell out of her latest release. I actually liked this one better than the first of the series Restless Spirits which I adored. I admit I was hesitant starting a new series while I loved W&G so much but I needn't have worried. This series is shaping up to being something special.
Dangerous Spirits begins some months after the events at Reyhome Castle . The relationship between one Mr. Henry Strauss and one Mr. Vincent Night is still new. Fragile even. Vincent and his medium partner Lizzie have packed up their belonging and moved to Baltimore to go into business with Henry. All there new enterprise needs is a break. Something to get their names out there. And Henry believes he has the answer when he presents his findings from Reyhome Castle to the Baltimore Psychical Society. But his rejection and expulsion from the group puts Henry into an impossible spot. He knows he must come clean to the others but because of jealousy over Vincent and his own past and insecurities he does not. This painful decision haunts Henry throughout most of the book. And, of course, lies always have a way of being found out.
To make matters worse, Lizzie and Vincent are asked by an old friend of their former mentor to help him solve strange happenings in Devil's Walk … a town as old as colonial times and a history to match. Lizzie and Vincent cannot say no and Henry does not want to be left behind as he already feels so much a failure. Sylvester Ortensi, who is known throughout Europe for his psychical achievements, takes every opportunity to let Henry know he is not needed or wanted there. I loathed Sylvester from the very beginning and knew he could not be trusted. And of course my instincts were correct. And poor Henry wants so badly to banish the ghost of an accused witch to prove himself worthy. The story that unfolds is brilliant!
Readers who love a good paranormal thriller will not be disappointed. Ms. Hawk can write the scary and creepy like no one's business. I legit had nightmares about a faceless being at my window! I closed every single blind in my home. Seriously. The scenes in the nearby woods at times gave me "Blair Witch Project" feels. I have goosebumps on my skin as I type this. The ending left me on the edge of my seat and quite breathless. I could not stop reading to save my life.
But don't for one moment think Dangerous Spirits lacks for romance because the story telling is so fantastic it blends seamlessly. Vincent and Henry were hotter than ever. The sex scenes I can only describe as scorching. And when the two call each other by their last names … for some reason it turns me the f*** on! These two are incredible together.
"What do you want from me?" he asked, lust thickening his voice.
… "Everything," he growled, and kissed Vincent again.
The one part of the book I thought wasn't going to work for me was Henry keeping the lie of what really happened that day at the society. He lets this go on for most of the book. And when he is forced to come clean of course everyone overreacts and there are misunderstandings BUT they don't last long at all. Our heroes come to their senses rather quickly. The reason it works is because I realized that everyone at some time or another has lied to someone they love at least once because they were scared to tell the truth thinking they would lose that person. And that is the reason Henry did it. And I totally got where he was coming from. I felt his failure and fear to my bones.
"I just wanted you to love me."
Breaks my heart! But don't worry … everything works out for Vincent and Henry. Things between them become more permanent. I am impatient for the next installment. Ms. Hawk drops a few hints as to maybe where the next tale might go. I can hardly wait.
Highly recommend. Even if you've never read a historical or a paranormal or don't consider yourself a fan of those genres don't let this stop you from reading this book. There is something for everyone. Ms. Hawk has a way of putting a reader at ease with her writing.
Spirits Series

Buy Link Author Link GoodReads