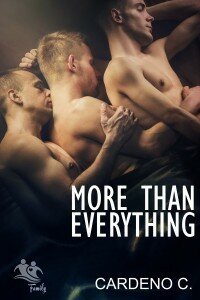 Title: More Than Everything (Family #3)
Author: Cardeno C.
Publisher: The Romance Authors
Release Date: October 13th 2015 (2nd Edition)
Genre(s): Contemporary
Page Count: 234
Reviewed by: Ele
Heat Level: 4 flames out of 5
Rating: 4.8 stars out of 5
Blurb:

A Book in the Family Collection

Time might not heal all wounds, but with two motivated and strong-willed men on a campaign to win him back, Charlie will get more than he ever thought possible.

As a teenager, Charlie "Chase" Rhodes meets Scott Boone and falls head over heels in love with the popular, athletic boy next door. Charlie thinks he's living the dream when Scott says he feels the same way. But his dreams are dashed when Scott unexpectedly moves away.

Years later, Charlie meets brash and confident Adan Navarro, who claims all he wants is a round between the sheets. After eight months together, Charlie is convinced Adan returns his love. But when the opportunity comes to be open about their relationship, Adan walks away.

Time passes and life moves on, but when Charlie learns the only two men he's ever loved are now in love with each other, his heart breaks all over again. Scott and Adan tell Charlie they want him back, but Charlie doesn't know if he can trust two people who have hurt him so deeply. Time might not heal all wounds, but with two motivated and strong-willed men on a campaign to win him back, Charlie will get more than he ever thought possible.

Review for the second edition.
I'm so happy I got the chance to write a proper review for this, which is one of my all time favorite books and the one that got me hooked on this author.
Every chapter begins with a photograph. Charlie is making a scrap-book and every photo holds a memory, which he narrates to the reader. I absolutely adore this storytelling device and it worked amazingly here.
The story is basically told in three parts. Keep in mind that for the third part, you will have to suspend your disbelief and keep your heart shaped glasses on.
Charlie & Scotty
Told from Charlie's POV, this is the story of how he and Scotty became friends and then boyfriends in their teens. This part is so very sweet and romantic. It's about your first love, the boy who made your heart beat faster for the first time and the one that got away. After six years, Scotty has to leave not only NY, but Charlie as well.

Charlie & Adan
Fast forward a few years. Charlie is building his career as a dancer and goes by the name "Chase". This is when he meets Adan, a law student. Adan is a douchebag. He wants Chase just for sex and is ashamed to be seen in public with a flamboyant man. It is obvious that he too has fallen for Chase, but he just can't get over himself. And this is why they eventually break up. But don't worry, Adan will redeem himself in the future.

Charlie, Scotty and Adan
Remember, do not put your shades off because…MOTHER OF ALL COINCIDENCIES. So, a few years later, tragic circumstances bring Charlie to Nevada and look who he happens to bump into again! Scotty. And Adan. That are a couple and co-owners of a law practice. They may love each other, but they never got over Charlie and they want him back. But Charlie is not the same man they left behind and thay both have to work hard to get him.
This is where I would like to see an actual discussion between Scotty and Adan. They 've been together for 5 years, but as soon as they see Charlie again they are all over him. They didn't really talk about their decision to bring a third into their relationship.
But I did like that things moved slowly until they finally came together and committed to a three way relationship.

There is humour, , snark (more than usual), heartbreak , romance, steam and a sparkly HEA. In other words, this story has everything.
Highly recommended!
Family Series

Buy Link Author Link GoodReads

Advanced Review Copy
ARC provided by the
author
in exchange for an honest review.