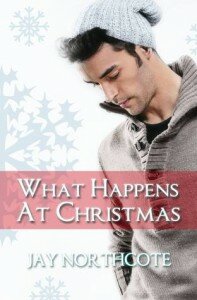 Title: What Happens at Christmas
Author: Jay Northcote
Publisher: Jaybird Press
Release Date: November 19, 2015
Genre(s): Contemporary
Reviewed by: Dalia
Heat Level: 4 flames out of 5
Rating: 4.3 stars out of 5
Blurb:
When two friends pose as boyfriends, could what happens at Christmas turn into something more?

Justin is recently and unhappily single. Christmas is coming, and he doesn't want to face his ex alone at their office party. So Sean—Justin's best mate and long-time secret crush—volunteers to go with him and pretend to be his new flame.

Sean has always lusted after Justin from afar, but there's never been a good opportunity to ask him for more than friendship. Posing as Justin's boyfriend isn't a chore, and if Justin wants to rebound onto him, Sean's more than willing. At the party pretence and reality blur, and a kiss on the dance floor leads to a night of passion.

In the aftermath, they both assume it was a one-time thing until fate intervenes. Stuck together in London over the holidays, they give in to temptation again. But what happens at Christmas stays at Christmas… right?


Justin has just split up with his cheating boyfriend and he can't wait to see his best friend Sean after nine months apart. They have known each other since they were seven, and Justin has had a secret crush on Sean since his teenage years. But what Justin doesn't know is that Sean feels the same way about him.
There's an office Christmas party coming up, and Justin doesn't want to go there on his own because his ex will be there with his new bloke. So when Sean volunteers to go with him as his pretend boyfriend, he happily agrees.
Justin and Sean practice being a couple before the party, but over time their whole pretend relationship stops feeling like pretending. It feels real and right.
This is a lovely and spicy Christmas story with a sweet, slow burn. It's perfect for a cold winter day.

Buy Link Author Link GoodReads

Advanced Review Copy
ARC kindly provided by the
author
in exchange for an honest review.