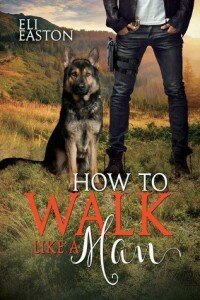 Title: How to Walk Like a Man (Howl at the Moon #2)
Author: Eli Easton
Publisher: Pinkerton Road
Release Date: November 13, 2015
Genre(s): Military/Law Enforcement/Shifters
Page Count: 241
Reviewed by: Dalia
Heat Level: 4 flames out of 5
Rating: 5 stars out of 5
Blurb:
Deputy Roman Charsguard survived Afghanistan where he lost his best friend—his K-9 handler James. Roman was a military dog until two years ago when he developed the ability to shift into a human. It's not easy to learn how to be a man. He found a place to live in Mad Creek, a haven for the secret world of dog shifters. Finding a reason to live has been harder. That is, until a certain human walks into the Mad Creek Sheriff's office and starts making trouble.

Matt Barclay has the worst luck. First he was shot in a SWAT drug raid, then he was sent as DEA investigator to Mad Creek, a little town in the California mountains. Matt's job is to keep a lookout for illegal drug farms, but nobody in the town wants him there. And then there's Roman, Matt's erstwhile baby-sitter. He's the hottest guy Matt's ever seen, even if he is a bit peculiar. If the town doesn't kill him, sexual frustration just might.

The town is counting on Roman to prevent Matt from learning about dog shifters, Matt's counting on Roman to be his work partner and tell him the truth, and Roman's trying to navigate love, sex, and a whole lot of messy human emotions. Who knew it was so complicated to walk like a man?


Roman Charsguard has been adopted and trained for military by James Pattson, his K-9 handler. They were in Afghanistan for two years until James died. After that Roman was put in a kennel once again and was supposed to have a new handler. However, the bond Roman and James had gave Roman a spark that turned him into a man. He ran away from the kennel and soon found himself in Mad Creek, a town where quickened (shifters) live and help each other out.
Matt Barclay was sent as DEA investigator to Mad Creek to keep a lookout for illegal drug farms. He's assigned to Deupty Roman who saved his life in the shooting not so long ago. Matt notices that there's something weird going on in Mad Creek, but he can't put his finger on it. Also, he knows that Roman tries to distract him from the town, what raises his suspicion even more, but at the same time he looks forward to spending a lot of time with attractive and sweetly naive Roman.
This book was so much fun. There's lots of humor, exciting moments, emotions and a lovely, slow burn. Roman still hasn't discovered everything about his body and he hasn't done some human things and it was delightful to see his first times. He's such a precious, sweet person. The sex starting instructions Lance and Tim gave him were hilarious. Plus, Roman and Matt were so great together, I couldn't get enough of them.
Highly recommended!
Howl at the Moon Series

Buy Link Author Link GoodReads

Advanced Review Copy
ARC kindly provided by
the author
in exchange for an honest review.