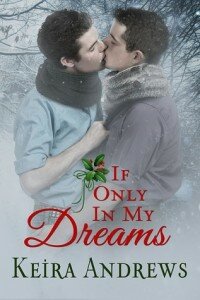 Title: If Only in My Dreams
Author: Keira Andrews
Publisher: Self-Published
Release Date: November 19, 2015
Genre(s): Contemporary/Holiday
Page Count: 140
Reviewed by: Renée
Heat Level:  4 flames out of 5
Rating:  4.5 stars out of 5
Blurb:
To be home for Christmas, they must bridge the distance between them.

Charlie Yates is desperate. It's almost Christmas and his flight home from college has been delayed. For days. Charlie promised his little sister Ava he'd be home for her first holiday season since going into remission from leukemia. Now he's stuck on the opposite coast and someone else grabbed the last rental car. Someone he hasn't even spoken to in four years. Someone who broke his heart.

Gavin Bloomberg's childhood friendship with Charlie ended overnight after a day of stolen kisses. With years of resentment between them, they don't want to be in the same room together, let alone a car. But for Ava's sake, Gavin agrees to share the rental and drive across the country together.

As they face unexpected bumps along the road, can Charlie and Gavin pave the way to a future together?
I just love Keira Andrews. And for a holiday story, this is one of the best I've read. Charlie and Gavin were best friends when they were 14. Until they were more. And then they were nothing. And now, by chance, during SNOWmageddon, Charlie asks Gavin for a ride across country so that he can spend Christmas with his sister as he promised her.
This book had it all. Friends to lovers. Enemies to lovers. Second chances. Road trip. First time gay lovin'. (And some seriously steamy gay lovin' at that). This was an awesomely cute read!
"You're the first guy I've ever kissed. I mean, obviously you were back then. But you are again now. First. And second."
YA/NA dialogue and humor can be really immature and make me roll my eyes, clears throat Him, but this had the kind of banter that was believable for the age group, but didn't have me wanting to vomit. I laughed several times throughout this book.
Great story!
Buy Link Author Link GoodReads
Advanced Review Copy
Advanced review copy of If Only in My Dreams provided by the author in exchange for an honest review.