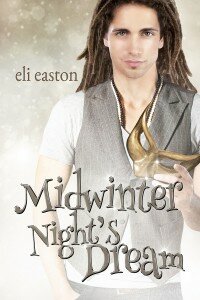 Title: Midwinter Night's Dream (Unwrapping Hank #2)
Author: Eli Easton
Publisher: Pinkerton Road
Release Date: November 25, 2015
Genre(s): Contemporary
Page Count: 122 pages
Reviewed by: Dalia
Heat Level: 3 flames out of 5
Rating: 4 stars out of 5
Blurb:
Raymond Rodriguez's days of shoving responsibility to the wayside are over. His older brother wants to live with his boyfriend so Raymond has to get his act together and find a place of his own. But when out-and-proud David Butler offers to be his roommate, Raymond agrees for reasons other than needing a place to crash.

David is Raymond's opposite in almost every way—he's Connecticut prim and proper while Raymond is a sarcastic longshoreman from Queens—but their friendship is solid. Their closeness surprises everyone as does their not-so-playful flirtation since Raymond has always kept his bicurious side a secret.

Once they're under the same roof, flirting turns physical, and soon their easy camaraderie is in danger of being lost to frustrating sexual tension and the stark cultural differences that set them apart. Now Raymond not only has to commit to his new independence—he has to commit to his feelings for David or risk losing him for good.
There comes a point at which you want something badly enough, it becomes imperative enough, that you willfully disregard the obstacles.
Micah Springfield is one of the hottest and popular guys on campus. He has always dated girls casually and he hasn't really seriously thought about being with a guy. That is, until he ends up kissing a cute boy named Leo during a game of 'spin the bottle'.
Leo Dayson is a theater major student who takes himself very seriously. He's all about gay rights and he and his friend, Helen, have a rule that they won't date straight people. When Micah offers Leo the use of his parent's barn for his play, because his original venue was canceled, the 'only homo' resolve starts sinking fast. Leo is attracted to Micah, and now that he spends Christmas time at the Springfield's farm, he finds himself falling for him even more.

There're multiple POVs, five to be exact, which is a little too much for me. I probably would have been more satisfied with dual or maximally triple perspectives. Besides that, I think it's a nice Christmas novella. I loved Micah, Leo and the sexy barn scene. Grinch, the white bulldog playing Puck was awesome. Plus, it was great to see Hank and Sloane again.

Buy Link Author Link GoodReads

Advanced Review Copy
ARC kindly provided by
the author
in exchange for an honest review.