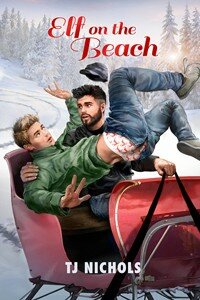 Title: Elf on the Beach
Author: T.J. Nichols
Publisher: Dreamspinner Press
Release Date: December 1st 2015
Genre(s): M/M Fantasy Romance
Page Count: 74 pages
Reviewed by: Belen
Heat Level: 3 flames out of 5
Rating: 4 stars out of 5

Blurb:
With a little magic, will elf Roone be able to give his hot Australian surfing instructor, Kyle, exactly what he needs?

Roone Sorley is an elf on a mission. He has one year to live in the mortal world and experience everything it has to offer before deciding if he is going to return to the North Pole and immortality or stay and become human. Christmas in Australia is all sun, sand, and surf. For Kyle Morgan, that means lots of tourists wanting to learn how to surf, but he hates Christmas. This time of year always reminds him about the family he doesn't have.

With the clock ticking and only days left, Roone plans on making the most of the heat and the beach and his hot surfing instructor. Beyond that he has no idea what he wants. However, with a little magic, he might be able to give Kyle exactly what he needs.

I like the premise that elves basically get a Rumspringa where they keep their magic, but get to spend one year amongst the humans, soaking up as much human experience as possible so they may decide whether they want to return to the North Pole and live the rest of their lives as an elf, or become human and lose their magic.
Roone Sorley is one of Santa's elves and has only a couple of weeks left on his year in the mortal world when he meets Kyle Morgan, a surf instructor in Australia. Kyle is hook-up shy after being burned too many times, so at first he pushes Roone away.
He'd stopped letting people get close years ago. He'd built up a thick noncommittal armor and drifted from lover to lover, not willing to share more than a bed.
But when Roone gets past some of Kyle's defenses it's sweet, hot, and oh-so-yummy.

It takes Kyle being willing to see that magic exists to have a real chance with Roone.
I loved that this has a lot of emotions and depth to it as well. This is a short, sweet story, with a bit of angst, a lot of depth, and even a bit of sexy times.
Recommended!

Buy Link Author Link GoodReads