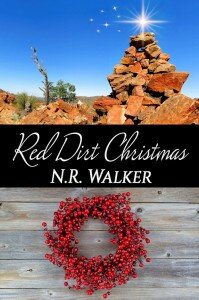 Title: Title: Red Dirt Christmas (Red Dirt Heart, #3.5)
Author: N.R. Walker
Publisher: Self Published
Release Date: December 11, 2015
Genre(s): M/M Contemporary Romance
Page Count: 79 pages
Reviewed by: Belen
Heat Level: 3 flames out of 5
Rating: 5 stars out of 5

Blurb:
Travis had been here at Sutton Station for just over a year. We were technically engaged, not that we'd told anyone. He was happy just knowin' I'd said yes, and I had some head-clearin' stuff to work through. Knowing I was good enough for Trav was one thing, but knowing if I was good enough to be a husband and father was somethin' else entirely.

Life at Sutton Station had never been better. Business was strong, Trudy and Bacon's little baby, Gracie, was a few weeks old now and as cute as a button, Ma's health was good, and my relationship with Laura and Sam was in a pretty good place. And Travis? Well, life with him was still all kinds of perfect.

But, to Travis's dismay, Christmas at the Station was just another day. Another day of getting up before the sun, feeding animals, fixin' what needed fixin', and checking water troughs all while tryin' to keep out of the blistering heat.

And this year weren't much different. Only that it was Travis's first Sutton Station Christmas. The fact we didn't go all out with decorations and celebrations baffled him, and if I was bein' truthful, it disappointed him too.

Which was why I had to make it a special kind of Christmas…

This perfectly toned, sweet holiday short takes place in between Red Dirt Heart 3 and Red Dirt Heart 4. Travis and Charlie are spending their very first Christmas together along with Ma and George, Trudy, Bacon and their 4 week old daughter, Gracie, and Billy. While Sutton Station hasn't really celebrated Christmas in a long while, now that Travis is there Charlie has a surprise up his sleeve for Travis which will make this year the most memorable Christmas ever.
I absolutely LOVE this series and these characters. Getting to see this little snippet of time was such a lovely treat. I love that Walker didn't seem to just slapdash this together, it's really treated with all the sexiness, humor, love and wonder it should be. Because fans of the this series love these characters like they're family, and this was exactly like an opportunity to revisit with family. Warm and comforting and full of love.

I nodded. "Yep. I never want to disappoint you, Travis," I said quietly. "And doin' stuff to make your partner happy is what being in a relationship is all about, yeah? And it was your first Christmas here. I wanted you to be happy. That's all."
I loved this – start to finish – there wasn't a moment I didn't find something to exclaim or melt over.


Highly Recommended!
Red Dirt Heart Series

Buy Link Author Link GoodReads

Advanced Review Copy
Copy generously provided by
the author
in exchange for an honest review.