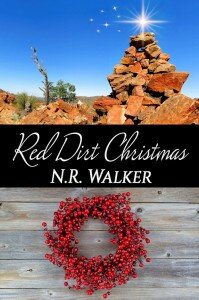 Title: Red Dirt Christmas (Red Dirt #3.5)
Author: N.R. Walker
Publisher: Self
Release Date: December 11, 2015
Genre(s): Contemporary
Page Count: 54
Reviewed by: Renée
Heat Level:  3 flames out of 5
Rating:  4.5 stars out of 5
Blurb:
Travis had been here at Sutton Station for just over a year. We were technically engaged, not that we'd told anyone. He was happy just knowin' I'd said yes, and I had some head-clearin' stuff to work through. Knowing I was good enough for Trav was one thing, but knowing if I was good enough to be a husband and father was somethin' else entirely.

Life at Sutton Station had never been better. Business was strong, Trudy and Bacon's little baby, Gracie, was a few weeks old now and as cute as a button, Ma's health was good, and my relationship with Laura and Sam was in a pretty good place. And Travis? Well, life with him was still all kinds of perfect.

But, to Travis's dismay, Christmas at the Station was just another day. Another day of getting up before the sun, feeding animals, fixin' what needed fixin', and checking water troughs all while tryin' to keep out of the blistering heat.

And this year weren't much different. Only that it was Travis's first Sutton Station Christmas. The fact we didn't go all out with decorations and celebrations baffled him, and if I was bein' truthful, it disappointed him too.

Which was why I had to make it a special kind of Christmas…

Charlie and Travis are two of my favorite couples of all time, and so this recent surprise that popped in my Inbox had me squealing in glee!
This Christmas story takes places between books 3 and 4, after Travis proposed, and it's his first Christmas in Australia with Charlie as a couple. We get to see Ma, Trudy, Bacon, their little Gracie, AND Nugget.
There are even nose nudges! Sigh. My favorite. The romance between these two is as evident as ever, and the romance….swoon!
Thank you, Ms. Walker! This was an amazing Christmas surprise that every single fan of this series will devour!
Red Dirt Heart Series
Buy Link
Author Link
GoodReads
Advanced Review Copy
Advanced review copy of Red Dirt Christmas provided by the author in exchange for an honest review.