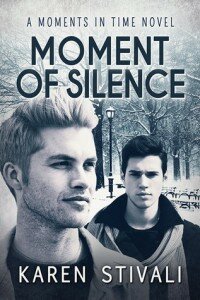 Title: Moment Of Silence (Moments in Time #4)
Author: Karen Stivali
Publisher: Dreamspinner Press
Release Date: December 18th
Genre(s): Erotica
Page Count: 230 Pages
Reviewed by: Lili
Heat Level: 4 out of 5
Rating: 3.5 Stars
Blurb:
Growing up, Jason Stern led a charmed life complete with devoted sisters, a father who was one of Brooklyn's most respected rabbis, and a mother who made the world's best babka. He headed to NYU ready for anything—except falling for the wrong guy, coming out, and getting disowned by his once-loving family. In spite of that, Jason managed to graduate with honors. He's got friends who treat him like family, and he's proudly running the largest LGBTQ teen shelter in Manhattan. Life is good, but he's still falling for the wrong men.

When charming, sexy Quinn Fitzpatrick begins work at the shelter, Jason falls hard and fast. Quinn is tall, blond, funny—damn near perfect. Only if Quinn's gay, even he doesn't seem to know it. If he does, he's not telling anyone. And he's about one ceremony away from becoming a Catholic priest.

Long hours of work turn to long nights of talking and laughter, and Jason dares to hope this time he's falling for the right guy. But Quinn's got a past to deal with and major decisions to make about his future. When Quinn leaves for a silent retreat, Jason knows the silence may change everything.

I have mixed feelings about this book. While there some amazing moments there were some looow points as well. I found the first 30%of this book dull. The story is only told from Jason's POV and at the beginning, I felt as if there was more telling than showing and I wasn't feeling the chemistry between Jason and Quinn. I think if the story had been written from an alternating dual POV it would've strengthened the story, it would've shown the sexual tension they were feeling towards each other.
After 30%, the book took a turn. We were shown more on page time between Jason and Quinn. There were stares and secret glances. Feelings started to grow. I adored the book from this point to about 64%. It was sweet and sexy. Jason's patience and Quinn's take charge attitude- they fit perfect together.
Then something terrible happens to one of Jason's loved ones. I won't go into specifics because it's a major plot point. I will say what happened– it's such a cliche story line. To me at least. Maybe it's because I've been reading romance for half my life, and I'm immune to that kind of life event/tragedy- in books. I know I'm very vague, I'm sorry- I just don't want to ruin it for future readers. Anyway, this kind of ruined some the momentum the book had gained.
Everything after 78% I enjoyed. There was heartbreak, hope, and happiness. Overall, it was a great story about family, loyalty, and being true to yourself. I believed in their HEA. The end was emotionally satisfying.
*There are two quick points I wanted to address before I finish. If you are hesitant to read it because:
1. You haven't read the first three books. I hadn't either, and I didn't feel lost at all.
2. Religion. The book is not heavy on religion, at all, so don't let that stop you.
Despite there being some low points, and also finding the pace slow at times- I would recommend this book. It was romantic, erotic, and angsty. 3.5 Stars.
The Entire Series
Buy Link
Author Link
GoodReads