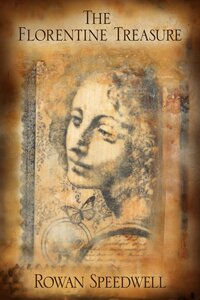 Title:
Author: Rowan Speedwell
Publisher:
Cover artist: Catt Ford
Genre: Historical/Contemporary/Time travel/Romance
Rating: 3.5 out of 5
Length:72 pages
Amazon: The Florentine Treasure
A guest review by Sirius
Summary: This well researched trip to Renaissance Florence made me wish for the longer novel with these two guys.
Blurb:
Art history professor Daniel Wollek is delighted to assist the Uffizi Gallery in Florence in cataloguing a cache of Renaissance artworks uncovered by an earthquake. But when a second earthquake pitches him headlong into the fifteenth century, Daniel finds himself more involved than he expected in rescuing precious artifacts from a fanatic's bonfires. Then he meets Leonardo di Vinci's assistant, Giacopo di Careggi, and finds in the beautiful young model a treasure even greater than art from the past
Review:
Leonardo da Vinci, Rafael Santi, Michellandgelo all those names of  famous Renaissance artists have  some sentimental value for me. My father loved art and  Renaissance artists were the first ones whose works he showed to me in the books he loved to buy when I was quite young. I don't mean that he was giving me art history lessons – he was just showing the illustrations from art albums and telling me basically look, look how beautiful these pictures are and I guess something  left a lasting impression on me. When I saw that the blurb for this story has  Leonardo's name in it and that Rowan Speedwell wrote it, I was sold already.  I also love time travel, so I was very eager and excited to read it.Overall  I liked it, although I have to say again that I wish Insta!Love would be less instant in many novellas I have read lately, including this one.
First and foremost as you could see that there is a time travel involved, so beware that you have to suspend you disbelief as to that part. I have read the stories which explore time travel in deeper details, exploring the paradoxes, changes in history, etc, etc, but I was fully aware of the fact that Dreamspinner collection would use the time travel first and foremost to showcase romance and I was totally fine and expected it in this story.  Notwithstanding the time travel part, I still wanted to see well researched settings and just for fun checked some random facts and names which turned out to be exactly as story describes them. I am still curious though whether Giacopo di Careggi himself was a fictional character or not – Google came up with some Italian texts which may have had his name, but it could be just the name of the Villa di Careggi. I think in my mind I would think of him as fictional character, because otherwise the suspension of disbelief may become a bit too hard to swallow for me.
The romance was, well, sweet, but way way way too Insta! for me, at least from one of the guys (You have to read to find out why the other guy may have had time to develop a crush before they met ;)). If you could swallow the Insta! part, it was sweet and tender, I liked Daniel and Giacopo very much, but I wish I could read a novel about them, I really do, because I wanted to get to know them better. Their interactions felt sweet and genuine, if you could swallow the initial instant attraction from one of the guys, you will probably enjoy it, I know I did and I had a problem with Insta! attraction. I liked how the fact that one of the guys who is ordinary looking gets a confirmation even through the eyes of other person, but what he does notice seems so much more beautiful than the appearance alone. I really wish these two were the characters in a longer written work, because what was there on page was just so very not enough for me.
I also want to note that while as I said above I really enjoy the time travel device, if done well and liked the first time it happens in the story, a second time travel just felt as way too convenient deuce ex machina.
If you enjoy Rowan Speedwell's writing as much as I do, I would still recommend this story, just beware of the possible limitations, if your reading tastes are close enough to mine.