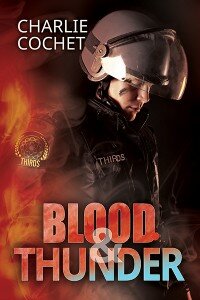 Title: Blood & Thunder (THIRDS #2)
Author: Charlie Cochet
Publisher: Dreamspinner Press
Release Date: August 4, 2014
Genre(s): Paranormal
Page Count: 240
Reviewed by: Dalia
Heat Level: 4 flames out of 5
Rating: 5 stars out of 5
Blurb:

Sequel to Hell & High Water
THIRDS: Book Two

When a series of bombs go off in a Therian youth center, injuring members of THIRDS Team Destructive Delta and causing a rift between agents Dexter J. Daley and Sloane Brodie, peace seems unattainable. Especially when a new and frightening group, the Order of Adrasteia, appears to always be a step ahead. With panic and intolerance spreading and streets becoming littered with the Order's propaganda, hostility between Humans and Therians grows daily. Dex and Sloane, along with the rest of the team, are determined to take down the Order and restore peace, not to mention settle a personal score. But the deeper the team investigates the bombings, the more they believe there's a more sinister motive than a desire to shed blood and spread chaos.

Discovering the frightful truth behind the Order's intent forces Sloane to confront secrets from a past he thought he'd left behind for good, a past that could not only destroy him and his career, but also the reputation of the organization that made him all he is today. Now more than ever, Dex and Sloane need each other, and, along with trust, the strength of their bond will mean the difference between justice and all-out war.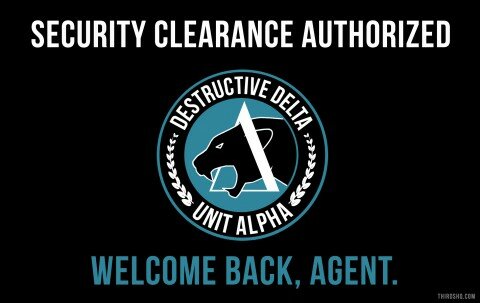 It's been eight months since Dex joined the THIRDS and four months since he became Sloane's lover. It turned out he's exactly what the team needed. He showed them it was okay to keep on living without their fallen teammate and he slowly started to earn their trust.
Sloane is strugling with his past and moving on from Gabe. He won't talk to Dex about his feelings and it hurts his partner. Still, Dex is patient, he gives Sloane time and doesn't ask any more of him.
Besides relationship and character development, there's a good amount of action. In the previous book we got to know that Isaac is the villain, who wants to destroy the THIRDS. Now Destructive Delta tries to find him and stop him at all costs. There are also some funny scenes, like karaoke night, and hot sexy times. Plus, we learn a little bit more about Calvin and Hobbs as well as Cael and Ash.
Dex is still one of my favorite characters. I just adore his humorous personality. I loved to see how much progress Dex and Sloane made. They both were stubborn at times and had their bad moments, but they always tried to work things out.
Spoiler

The world might go to shit tomorrow, but tonight, while he had Dex in his arms, everything was as it should be. Dex was right; they had been through a lot. In the end whether that would hurt their relationship or strenghten it, who knew, but at least they were in this together. From here on out, Sloane knew whatever happened, his partner had his trust, his back, and more importantly, his heart.
I really enjoyed this installment and I can't wait for the stories of the other pairings.
THIRDS Series
Author Link
GoodReads