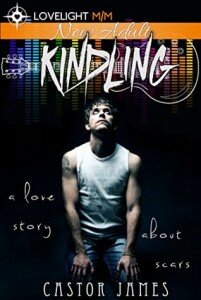 Title:Kindling: A Love Story About Scars
Author:Castor James
Publisher:LoveLight Press
Release Date:January 20th 2015
Genre(s):MM Contemporary Romance
Page Count:85 pages
Reviewed by: Rissa (an MM kinda girl)
Heat Level: 3 flames out of 5
Rating: 3 stars out of 5
Blurb:

Scar (n.): The mark left where something failed to kill you.

When a stage accident leaves his left hand permanently damaged, guitarist Silas St. Clare is left barely working out a living as a technician at a low-rent sound studio, convinced his dream of a life on stage is dead forever.

But when up-and-coming alt-rock star Asher Danes rents out the studio, it's not long before the singer has Silas questioning everything he knows – and not just about music. Will Silas stay in his comfortable misery, or reach for happiness with both hands? And will he be able to grasp it, if he does?

Silas was a guitarist who had his dreams taken out by a flame. Now he works in a studio watching/helping other musicians live their dream. Asher an up and coming rocker rents out the studio because his 'people' think he's easily distracted in L.A.
The story has great characters and awesome bones but the execution wasn't quite right for me. The beginning of the book left me a tad confused and the writing seemed choppy. As the book went on tho I noticed a shift and things seemed to start to flow more and I finally got that connection with the characters. We get to see Silas on a more personal level with his injured hand & how he doesn't want to feel like an 'experiment' . Asher tho, I have some unanswered questions about him. The book didn't end with a cliffhanger exactly but it did definitely leave it open for a book 2. Hopefully they'll answer those Asher questions.

Author Link GoodReads

Advanced Review Copy
ARC provided by IndiGo Marketing in exchange for an honest review