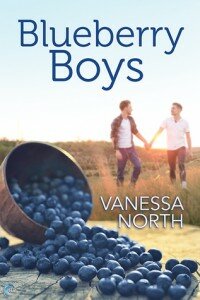 Title: Blueberry Boys
Author: Vanessa North
Publisher: Riptide Publishing
Release Date: November 30th 2015
Genre(s): Contemporary Romance
Page Count: 186 pages
Reviewed by: Lili
Heat Level: 4 flames out of 5
Rating: 5 Stars out of 5
Blurb:
Connor Graham is a city boy—a celebrated fashion photographer in New York. When his uncle's death drags him back to the family blueberry farm, all he wants to do is sell it as quickly as he can. Until he meets his uncle's tenant farmer.

Jed Jones, shy and stammering, devout and dedicated, has always yearned for land of his own and a man to share it with. Kept in the closet by his church, family, and disastrous first love, he longs to be accepted for who he is. But now, with his farm and his future in Connor's careless hands, he stands to lose even the little he has.

Neither man expects the connection between them. Jed sees Connor—appreciates his art and passion like no one else in this godforsaken town ever has. Connor hears Jed—looks past his stutter to listen to the man inside. The time they share is idyllic, but with the farm sale pending, even their sanctuary is a source of tension. As work, family, and their town's old-fashioned attitudes pull them apart, they must find a way to reconcile commitments to their careers and to each other.

What a lovely story. Have you ever read a book and felt an author's love through her words? Well, I felt it here. This book moved me. This is not a crazy story with wild twists and turns- instead it is a quiet love story between two men who fall in love. Which to be honest- I think are some of the hardest stories to write.
What I loved:
*Jed. He had this quiet intensity and strength to his character. Loved that he wouldn't settle for anything less than what he wanted- what he deserved.
*Connor. Loved his gentleness- and just his heart. I so badly want to say more, but I don't want to spoil it. I know that future readers will understand what I mean when they read the book.
*Jed and Connor together. They were so romantic.
*This book made me cry and I LOVE when books make me cry.
*The character development.
*The intimate scenes between the two main characters.
*It's told from a dual POV. Big thank you to the author for that!
*Great cast of secondary characters.
*Story had a nice, easy pace.
*And the end ♥♥♥
As to what I didn't love:
*I've got no negatives to point out.
This is a 5 Star read for me. It's going on my comfort re-read pile. It was just beautiful and I can't recommend it enough.

Buy Link
Author Link
GoodReads