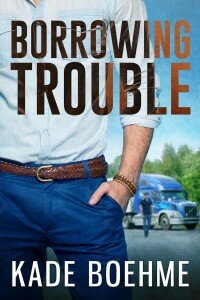 Title: Borrowing Trouble
Author: Kade Boehme
Publisher: Self Published
Release Date: October 20th, 2015
Genre(s): Contemporary Romance
Page Count: 2943 Kindle Locations
Reviewed by: Lili
Heat Level: 3 out of 5
Rating: 4.8 Stars
Blurb:
After an amicable divorce, Jay Hill decided to move back to his rural hometown with his teenage kids. Being on good terms with his ex-wife and in laws has made the transition into single life pretty smooth. Things were good and uncomplicated. Then Landon Petty walked into his life.

Landon didn't expect to still be stuck in his hometown working at his dad's sawmill at this point in his life. Being an openly gay truck driver was as awkward in practice as in description. When Jay came to take over managerial duties at his dad's business, Landon was surprised to find a friend. When Jay turns out not to be as straight as he thought, things get complicated.

When feelings for Landon shine a light on how much Jay's life has been actually half lived, he's forced to decide if he'll jump in with both feet or if he'll let Landon slip through his fingers.

OMG, did I love this book! Some of my favorite stories are ones that have a quiet beauty to them and this book was just that. This is a slice of life story that takes place in small town USA. After his divorce, Jay moves back to town and begins working with Landon and his dad. The two strike up an easy friendship and respect for one another.

What I loved:
*Jay and Landon. Together and individually. Loved that they grew as individuals and as a couple.
*The relationship development. I was so happy that they started as friends first and then it progressed into more. I also loved that they were willing to take a chance on each other despite knowing it may not work out. Plus, the honesty and communication between them.
*The kids. I was relieved the story never became about them and there was no unnecessary angst.
*I'm not going to sugar coat it: the sex. Quality over quantity. lol
*Story had a nice easy pace very much like life in a small Southern town.
*The epilogue. They were happy, but it also portrayed the trials of real life. Nicely done.
All in all this was another winner from Kade Boehme. He writes it- I read it. That's how much I love his stories. If you're looking for a beautiful love story then look no further. 4.8 Stars. ♥

Author Link
GoodReads
Advanced Review Copy
ARC kindly provided by
Kade Boehme
for an honest review.