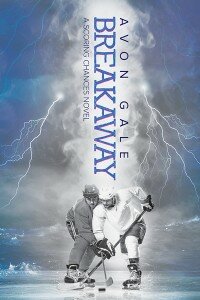 Title: Breakaway (Scoring Chances #1)
Author: Avon Gale
Publisher: Dreamspinner Press
Release Date: 240 pages
Genre(s): Contemporary
Page Count: 240 pages
Reviewed by: Lili
Heat Level: 3 flames out of 5
Rating: 2.5 stars out of 5
Blurb:
Drafted to play for the Jacksonville Sea Storm, an NHL affiliate, twenty-year-old Lane Courtnall's future looks bright, apart from the awkwardness he feels as a gay man playing on a minor league hockey team. He's put his foot in his mouth a few times and alienated his teammates. Then, during a rivalry game, Lane throws off his gloves against Jared Shore, enforcer for the Savannah Renegades. It's a strange way to begin a relationship.

Jared's been playing minor league hockey for most of his career. He's bisexual and doesn't care if anyone knows. But he's determined to avoid another love affair after the last one left him devastated. Out of nowhere a one-nighter with rookie Lane Courtnall gives him second thoughts. Lane reminds Jared why he loves the game and why love might be worth the risk. In turn, Jared hopes to show Lane how to be comfortable with himself on and off the ice. But they're at different points in their careers, and both men will have to decide what they value most.

This book did not work out for me. I was so excited going in- I love sports romance and age difference tropes so it seemed like it would be a win-win, but sadly it missed the mark.
I'll start with the negatives first:
*Lane's personality. I wasn't sure if his lack of social skills and verbal diarrhea were meant to be funny- I'm assuming it was- but the humor fell flat. If it wasn't meant to be funny- it just made the flow of the dialogue awkward. His social awkwardness seemed forced- the writing was trying too hard to make him (for lack of a better word) awkward.
*Lane's wanting to pet-

Spoiler

Zoe's boobs

I was reading it and thinking- what? Why? What is this adding to the story or his character? Is it trying to add steaminess? Cause it didn't. It felt so unnecessary.
*The story flow. You know, I was struggling early on but kept going in hopes the story would pick up. It didn't. I really had to push through.
*His quick rise in the team. It wasn't believable.
Now to the positives:
*Jared. I had a different experience with his character. Where Lane's felt forced and contrived- Jared's didn't. His character, dialogue felt natural- the author sold what she was selling with him.
*The secondary cast of characters.
*It was told from a dual POV.
*It had a real nice epilogue.
All in all this was a 2-2.5 Star read. The writing style and I didn't mesh. Would I recommend it? Well… I wouldn't dissuade anyone from reading a book. As I've said before- no two readers read the same book, and we all react differently. Please read Gigi's review as she had a different experience with the book than I did.
Author Link
GoodReads
Advanced Review Copy
ARC kindly provided by for an honest review.