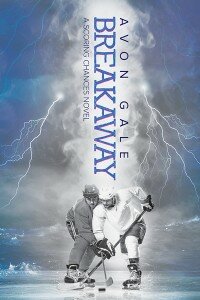 Title: Breakaway (Scoring Chances #1)
Author: Avon Gale
Publisher: Dreamspinner Press
Release Date: November 27, 2015
Genre(s): Contemporary/Hockey
Page Count: 240
Reviewed by: Gigi
Heat Level: 5 flames out of 5
Rating: 5 stars out of 5
Blurb:

Drafted to play for the Jacksonville Sea Storm, an NHL affiliate, twenty-year-old Lane Courtnall's future looks bright, apart from the awkwardness he feels as a gay man playing on a minor league hockey team. He's put his foot in his mouth a few times and alienated his teammates. Then, during a rivalry game, Lane throws off his gloves against Jared Shore, enforcer for the Savannah Renegades. It's a strange way to begin a relationship.

Jared's been playing minor league hockey for most of his career. He's bisexual and doesn't care if anyone knows. But he's determined to avoid another love affair after the last one left him devastated. Out of nowhere a one-nighter with rookie Lane Courtnall gives him second thoughts. Lane reminds Jared why he loves the game and why love might be worth the risk. In turn, Jared hopes to show Lane how to be comfortable with himself on and off the ice. But they're at different points in their careers, and both men will have to decide what they value most.

Hockey player gay romance! Oh, one of my absolute favorite genres, without a doubt. Avon Gale follows-up her fabulous, intense Let the Wrong Light In with this easy, breezy, sweet romance.
Lane Courtnall starts his hockey career with the Jacksonville Sea Storm, naive and excited, with a serious case of foot-in-mouth syndrome. He doesn't seem to have a filter which gets him in trouble with many of his teammates. In an effort to show his dedication to the game to his teammates, he instigates a brawl on this ice with notorious bad boy Jared Shore, enforcer for the Savannah Renegades. The move works and Lane earns some hard-won respect but when he meets Jared again after hours, his filter is once again off and he can't hide his lust for the older, more experience Jared.
I found Lane's lack of social graces and filterless approach to life to be endearing, sweet and charming. One of those "not a bad bone in his body" types.
Lane tried the same move he had last time, but the Renegades defense knocked him over and called him a stupid motherfucker.

"Your mom's not hot enough. Sorry," Lane snapped back, and the defenseman actually snorted before he went back to trash talking.

Lane wondered if that guy's mom was there, and then he felt bad.
Throughout the course of the book, Lane is able to melt Jared's icy heart and the men eventually fall in love. Jared is pleasantly surprised at Lane's eagerness, lack of experience and willingness to learn EVERYTHING in bed.
"Yeah. I thought about it. Do you like that?" His hand rubbed over Lane through his boxers, and Lane made a noise Jared had never heard in bed before, not with anyone, and immediately wanted to hear again.

"I thought about you sucking me off."

"Did thinking about it get you off?" Jared bit him on the shoulder at a sudden wave of lust. Lane kept being very, very not shy at strange moments, and it was unexpected and also incredibly attractive.
The hockey scenes here are real and dramatic, a big plus for me, and the sex is unreserved and scorchingly hot. I absolutely loved the sexual dynamic between these two men and we learn so much about them as they experiment in bed and eventually make love. Lane and Jared are fanatic characters and their idiosyncrasies make them even more charming and lovable.
The secondary characters are also a big plus for me. Lane meets and befriends Zoe, a spunky woman covered in tattoos who eventually starts dating Lane's roommate. And Riley Hunter, the quiet, intense goalie for the Sea Storm is the subject in the next book of the series, Save the Game.
I can highly recommend this book. For those that read and loved Avon's first book Let the Wrong Light In, you will especially love this more warm-and-fluffy tale with a dynamic between the main characters that is just as strong and passionate.
Advance Review Copy
Galley copy of provided by in exchange of an honest review.
More Buy Links
About Avon
Avon Gale wrote her first story at the age of seven, about a "Space Hat" hanging on a rack and waiting for that special person to come along and purchase it — even if it was a bit weirder than the other, more normal hats. Like all of Avon's characters, the space hat did get its happily ever after — though she's pretty sure it was with a unicorn. She likes to think her vocabulary has improved since then, but the theme of quirky people waiting for their perfect match is still one of her favorites.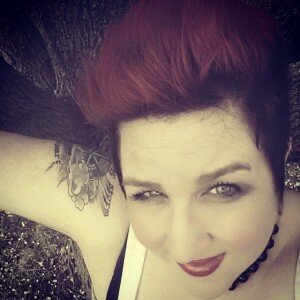 Avon grew up in the southern United States, and now lives with her very patient husband in a liberal midwestern college town. By day, Avon is a hair stylist who loves her job, her clients, and the opportunity to spend her time being creative and making people happy and look fabulous.
When she's not writing, she's either doing some kind of craft project that makes a huge mess, reading, watching horror movies, listening to music or yelling at her favorite hockey team to get it together, already. Avon is always up for a road trip, adores Kentucky bourbon, thinks nothing is as stress relieving as a good rock concert and will never say no to candy.
At one point, Avon was the mayor of both Jazzercise and Lollicup on Foursquare. This tells you basically all you need to know about her as a person.
 Website Newsletter GoodReads Blog
Next in the Series
Save of the Game (Scoring Chances #2)
After last season's heartbreaking loss to his hockey team's archrival, Jacksonville Sea Storm goalie Riley Hunter is ready to let go of the past and focus on a winning season. His new roommate, Ethan Kennedy, is a loud New Yorker with a passion for social justice that matches his role as the team's enforcer. The quieter Riley is attracted to Ethan and has no idea what to do about it.

Ethan has no hesitations. As fearless as his position demands, he rushes into things without much thought for the consequences.Though they eventually warm to their passionate new bond, it doesn't come without complications. While trying to financially help Ethan, Riley must hide his family's wealth so as not to hurt Ethan's immense pride. For their relationship to work, Ethan will need to learn when to keep the gloves on and let someone help him—and Riley will have to learn it's okay to let someone past his defenses.