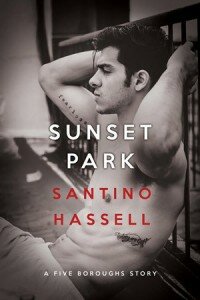 Title: Sunset Park (Five Boroughs #2)
Author: Santino Hassell
Publisher: Dreamspinner Press
Release Date: December 11, 2015
Genre(s): Contemporary
Page Count: 230
Reviewed by: Vallie
Heat Level: 5 flames out of 5
Rating: 5+ stars out of 5
Blurb:


Raymond Rodriguez's days of shoving responsibility to the wayside are over. His older brother wants to live with his boyfriend so Raymond has to get his act together and find a place of his own. But when out-and-proud David Butler offers to be his roommate, Raymond agrees for reasons other than needing a place to crash.

David is Raymond's opposite in almost every way—he's Connecticut prim and proper while Raymond is a sarcastic longshoreman from Queens—but their friendship is solid. Their closeness surprises everyone as does their not-so-playful flirtation since Raymond has always kept his bicurious side a secret.

Once they're under the same roof, flirting turns physical, and soon their easy camaraderie is in danger of being lost to frustrating sexual tension and the stark cultural differences that set them apart. Now Raymond not only has to commit to his new independence—he has to commit to his feelings for David or risk losing him for good.
This. This right here. This is why I will not stop reading mm romance –let the haters hate.
Santino Hassell has outdone himself. I actually loved this one more than the first book in the series. The writing flowed amazingly, the characters were developed to a tremendous level, and the story itself? It's like it was written for me! Everything I love was in it:
Friends-to-lovers
Raymond and David hit it off as friends at the end of Sutphin Boulevard and that friendship continued to grow here. They became roommates and spent a lot of time together. I especially loved how Raymond would shut David's philosophical bullshit right down when they were getting high –priceless.
Full-on contemporary novel
I think Hassell is really great with this. I have never been to New York, but boy did he make me feel like I knew what he was talking about. The characters and their surroundings were fully dimensional. And I'm not talking about the names of the streets or somebody jumping on so and so train. The author created these fictional characters and planted them into a real environment, thus making them as life-like as possible. Especially with Raymond, a huge part of his self-identity, his upbringing, his childhood memories were embedded within and directly linked to his environment. So it wasn't just about where the characters went or what they did, it was about WHO THEY WERE, in terms of that neighbourhood, and that park, or whatever else.
Da sex
HOT HOT HOT HOT HOT sex scenes –sparingly used for maximum effect. Those Grindr texts…How does the author DO that? It boggles my mind how I'm reading a book and the words are transporting me right there with the characters –ha, don't I wish! I swear, sometimes I feel like Hassell is waving a wand, dictating the directions my poor emotions are going in. But I digress. The sex. Holy shit. The hottest of the hot. Dirty talk. No awkward porny dialogue. Bad boy Raymond is bad bad bad and I love it.
Amazing dialogue
The writing in general is super amazing, but I personally have an affinity for books that have a lot of dialogue. It's superb. And the conversations David and Raymond had were actually meaningful and with substance. There was a purpose for everything. They learnt things about each other and as a result I did too. No telling, thank you author!
Overall, this was such a joy to read. The angst was just right too. David gave me a bit of whiplash for a while, going back and forth about what to do. I wanted to yell at him to wake the fuck up and hold on to his man already several times. Raymond went through a freaking transformation. From low-expectation loser, he gained focus, self-esteem, and actually fought for the things he wanted by the end of the book. And the readers get to see it all in perfectly paced story-telling. And for the drama lovers out there, you won't be disappointed! There is fighting, and making up, and fighting, and making up, hot sex, witty dialogue, hot sex, fighting, making up, HEA.
Any takers?
This made my top 10 favourite books of 2015.
HIGHLY RECOMMEND!
PS. Can we all take a moment to drool over that cover please?
Five Boroughs Series
Advanced Review Copy
ARC of Sunset Park provided by the author in exchange for an honest review.