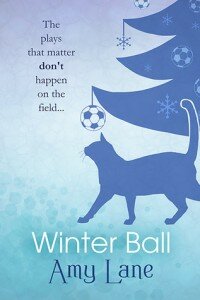 Title: Winter Ball
Author: Amy Lane
Publisher: Dreamspinner Press
Release Date:December 25, 2015
Genre(s): Contemporary
Page Count: 200
Reviewed by: Ele
Heat Level: 5 flames out of 5
Rating: 4.9 stars out of 5
Blurb:

Through a miserable adolescence and a lonely adulthood, Skipper Keith has dreamed of nothing but family. The closest he gets is the rec league soccer team he coaches after work—and his star player and best friend, Richie Scoggins.

One brisk night in late October, a postpractice convo in Richie's car turns into a sexual encounter neither of them expected—nor want to forget. Soon Skip and Richie are living for the weekends and their winter league soccer games—and the games they enjoy off the field. Through broken noses, holiday decorating, and the killer flu, they learn more about each other than they ever dreamed possible. Every new discovery takes them further beyond the boundaries of the soccer field and into the infinite possibilities of the best relationship of Skipper's life.

Skipper can't dream of a better family than Richie—but Richie's got real family entanglements he can't shake off. Skipper needs to convince Richie to stay with him beyond winter ball so the relationship they started on the field might become their happy future in real life!
It's a late October night. Skipper, coach of the rec league soccer team, and Richie, his favourite player and best friend, have just finished practice. They get in Richie's car, and it's only natural for two friends to share their concerns about their love life, right? There must be a reason why Skip doesn't get hard with women or why Richie needs the lights off during sex. If you don't talk to your friend about these things, who are you going to talk to?
Good thing they did! Because they found out why!

This is a truly amazing friends-to-lovers story. That night, in Richie's car, everything clicks into place and everything makes sense. And it felt natural and real and all kinds of awsome.
"This thing, this living breathing warm human thing, it had been brewing between them for a long time, hadn't it? […] It was him and Richie, as they always were, just a little more naked now"
Skip doesn't have any family. All he has is the team and Richie. It broke my heart a little that he thought nobody would care whether something happened to him or not. He takes care of everyone and he worships the ground Richie walks on.
He's also an amazing narrator. I felt his words and I only realised that I didn't get Richie's POV when it was pointed out to me.
As for Richie…

Ginger, pale, freckled, green-eyed, wiry (I'm licking my lips as I write this. Yes, I have a ginger fetish, what of it?). But also fierce and loyal. And holly hotness, he was so uninhibited and eager in bed…he was unstoppable, I tell you!
"Skip took Richie while he was plastered up against the headboard, hands clutching the rail, the bed rocking so loud they probably couldn't have heard a bomb go off. Richie was screaming, "Fuck me! Fuck me, Skip! Fuck me!"

But poor Richie tries so hard to hold on to a family that treats him like dirt and takes advantage of him. Because he was always the "useless" one, and now he needs to feel needed.
And despite his reluctance to leave this family, I never felt that he loved Skip less, or that he didn't have his back. And I was so damn proud of him for the way he stood up for him and Skip in the end.
The secondary characters are perfection. The VP who sents gifts with a card that reads "Thanks for not suing for sexual harassment. I hope your boyfriend took good care of you." Carpenter, who proved to be a great friend and a whole soccer team that deserved more credit than it was given.
This story is like all Amy Lane Christmas stories. All the feels but not very angsty, with the right amount of steam and fluff, and men that find the family they deserved. Highly recommended!

 Author Link GoodReads

Advanced Review Copy
ARC provided by the in exchange for an honst review.