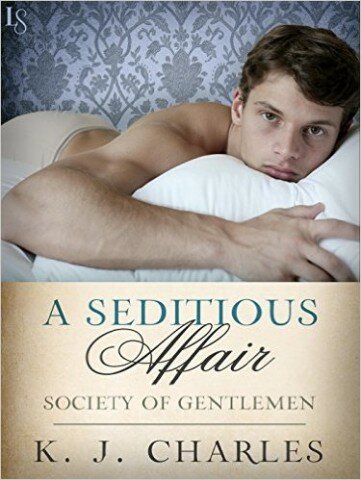 Title: A Seditious Affair (Society of Gentlemen #2)
Author: K.J. Charles
Publisher: Loveswept Publishing
Release Date: December 15, 2015
Genre(s): Historical
Page Count: 253
Reviewed by: lenalena
Heat Level: 4 flames out of 5
Rating: 3.5 stars stars out of 5
Blurb:

Silas Mason has no illusions about himself. He's not lovable, or even likable. He's an overbearing idealist, a Radical bookseller and pamphleteer who lives for revolution . . . and for Wednesday nights. Every week he meets anonymously with the same man, in whom Silas has discovered the ideal meld of intellectual companionship and absolute obedience to his sexual commands. But unbeknownst to Silas, his closest friend is also his greatest enemy, with the power to see him hanged—or spare his life.

A loyal, well-born gentleman official, Dominic Frey is torn apart by his affair with Silas. By the light of day, he cannot fathom the intoxicating lust that drives him to meet with the Radical week after week. In the bedroom, everything else falls away. Their needs match, and they are united by sympathy for each other's deepest vulnerabilities. But when Silas's politics earn him a death sentence, desire clashes with duty, and Dominic finds himself doing everything he can to save the man who stole his heart.

K.J. Charles is without a doubt one of the most solid writers of historical m/m. I know there are others out there and I would like to say I enjoy them too, but the fact of the matter is, I don't really. There is just more meat on the bones of a Charles book.
This is book two in the series that started with A Fashionable Affair and like that book it deals with a volatile period in British history when the common people started rebelling against the aristocracy. Where the first book dealt with someone elevated from the common class to the aristocracy, this one is about the affair between Dominic, an aristocrat who works at the home office, charged with bringing in the rebel rousers and Silas, one of the most wanted seditionists. That makes for a tense affair, for sure.
As good as this was, it wasn't my favorite. Mostly because of the D/s relationship between Silas and Dominic, which just isn't something that I find personally fascinating. Many people will feel differently, I know, and those people will probably have more interest in how that particular relationship develops. For me, the character I liked the best in this was Julius, who steals every scene he is in. So it won't surprise you that I liked the previous book better. However, this was still a solid story set at an interesting time in history and well worth the read.
Society of Gentlemen Series

 Author Link GoodReads More Author Reviews

Advanced Review Copy
Galley copy of provided by
NetGalley
in exchange of an honest review.