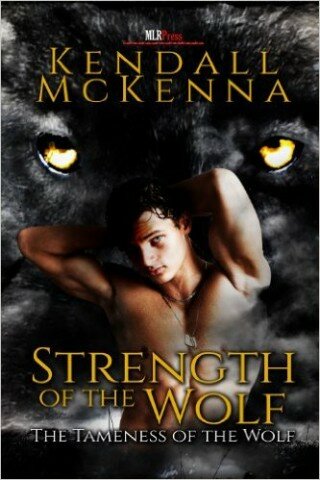 Title: Strength of the Wolf (Tameness of the Wolf #2)
Author: Kendall McKenna
Publisher: MLR Press
Release Date: December 23, 2014
Genre(s): Paranormal, Military, Shifters
Page Count: 365
Reviewed by: Kristin
Heat Level: 4 flames out of 5
Rating: 4 stars out of 5

Blurb:
After a fiery exit from Afghanistan, Tim Madison is promoted to major. Jeremy Wagner is a civilian, just beginning his Transition to True Alpha. As a lone wolf, he has no one to teach him the vital principles of strong leadership. After a volatile chance encounter, Tim and Jeremy form an intimate bond.

As Jeremy prepares to someday lead his own pack, Tim struggles with military werewolves being needlessly maimed in combat, as well as specifically targeted by hostile forces. Despite Tim and Jeremy's feelings, werewolf and human politics or family conflict could prevent their mate-bond.
Strength of the Wolf can be read as a stand-alone, but I don't recommend it. Strength/Pack provides a fair amount of background for the second installment, which builds and expands upon the first book.
Recently returned from Afghanistan, newly promoted, Major Tim Madison, Staff Sgt Noah Hammond and Captain Lucas Young have been tasked with re-writing the manuals on werewolf protocol in the Marines. After a evening gathering to celebrate their promotions, a confrontation in the parking lot introduces Jeremey, civilian, architect intern, and newly transitioning True-Alpha. He's been Cast Out of his pack, doesn't know how to control the transition, and is one angry 25 year old bruising for a fight. Noah defuses the situation and takes Jeremy under his wing.
For Tim, it's a done deal. He's beyond smitten with Jeremy, he just doesn't quite know it yet:
"His olive-toned skin was smooth looking, his cheeks flushed bright red. It was his mouth that captured Tim's attention and held it fucking hostage. His full pouty lips were shiny and pink. That mouth wouldn't have been out of place on a woman and had Tim thinking the most obscene thoughts. Pleasant, but obscene."
A second meeting has Jeremy claiming Tim as his, and this is where I dropped a star from my rating. Tim was THERE when Noah claimed Lucas. Tim is helping WRITE the military manuals on werewolf protocol and training. Tim is considered an expert on wolves, yet he didn't know what was happening between him and Jeremy? Even with Lucas and Noah telling him what was happening? I know people can be dense, but that was stretching it.
I also would have liked to have seen more of Jeremey doing Jeremy things – his interaction with co-workers, how he was handling Tim's deployments from his POV, coping with fluxing hormones away from our Marines. Point – it wasn't until quite late in the book where there is mention of Jeremy doodling on a pad he always had in his possession. Three-quarters of the way through the plot does not constitute "always in his possession". I would have like to have seen that character attribute earlier.
What I did like about this installment? The underlying plots of Jeremy's transition (even tho it did feel a bit rushed), and Tim's dawning realization and horror that the DOD has greater plans – but not necessarily better – for Noah and Lucas.
And for those of you who don't have a military background, here's a handy link for marine acronyms. Very handy to to reference.
Tameness of the Wolf Series

  GoodReads More Author Reviews