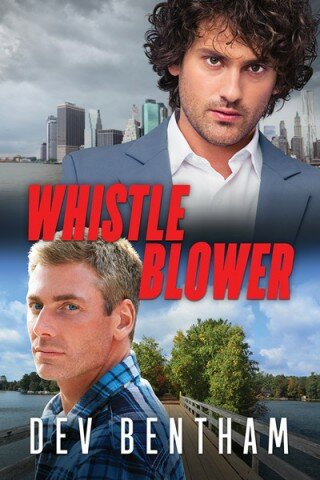 Title: Whistle Blower
Author: Dev Bentham
Publisher: Dreamspinner Press
Release Date: February 5, 2016
Genre(s): Contemporary
Page Count: 214
Reviewed by: Vallie
Heat Level: 3 flames out of 5
Rating: 3.3 stars out of 5
Blurb:

Money can't buy happiness. Jacob Nussbaum knows this better than anyone. He's a corporate lawyer deep inside a huge New York firm, where he works overtime, sacrifices any chance at a personal life, and has been selling his soul for years. With a secretary as his only friend, he trudges on, until his whole world is blown apart by a manila envelope of photos—evidence that one of the firm's partners is the dirtiest lawyer in one hell of a filthy business.

In search of the truth, Jacob travels to a small northern Wisconsin fishing resort. There he meets Ben Anderson, a brutally lonely man, who knocks him off his feet. Ben prompts Jacob to reevaluate his life. He's a dozen years older than Jacob, still recovering from the death of his long time love, and doesn't want to leave anyone a widower. But a jaded New Yorker on a soul-searching mission might be just the man to convince the grieving Ben that it's never too late to begin again.

I was pleasantly surprised by this book. I had never read anything by this author and the blurb caught my interest.
Ben is a 50 year-old widower whose long-time partner, Manny, died a couple of years ago at age 74. Ben lives in their lake resort which he operates with the help of Manny's sister. He's a lonely man who's resigned to being single for the rest of his life. He is not celibate, but he does not actively pursue romantic interests either. When Jacob, a hot younger lawyer shows up at the resort aiming to get information from a regular at the resort, the two get close and begin a sexual relationship with the mutual understanding that it can't be anything more. After all, Jacob is only there for a few days before he returns to New York, and neither of them want to commit to anything more serious than that.
The story is told in dual POV. From Ben's POV, we get beautiful nature descriptions of the lake and surrounding nature. I felt transported there. Ben teaches Jacob how to use the scully (still don't know exactly what that is but I pictured a canoe in my head and I guess that's close enough for me to get the idea). There are so many scenes of the two of them bonding in the lake, as well as a pretty atmospheric setting when they're caught out in a storm. Ben is very aware of the 14-year difference between them and he feels strongly about putting someone through what he went through with Manny, who had been 20+ years Ben's senior. He keeps his emotional distance but everything in him screams that he wants to love again and give himself to another person.
Jacob's life in New York is very monotonous and empty. He is partner in a corporate law firm, makes gazillions, and lives in a luxurious apartment that looks like a model home instead of an actual home. The case that drove him to the resort has Jacob wondering about the morality if his profession and whether he should be doing something more meaningful with his life. All this internal debate is described very well and I felt as though I got to know Jacob very well.
I loved that for the first half of the book or so they took things slow. This book isn't a sex-fest and the few sex scenes that are included are relatively brief and not very inspiring. My main niggle with the pacing was that I was waiting for things to peak emotionally at some point but it never happened. It felt very flat throughout. The second part of the book has more information about the case and talking with informants, which I admit to skimming though because I didn't care about it that much. There is a bit of couply angst ("I'm too old for you, no you're not, let's not be together, but we can work things out!) but I was either too disappointed by then to appreciate it or it just failed to mess with my emotions as much as I'd hoped.
Overall, this is a well written book, with beautiful prose, and well developed characters. The romance started out with a lot of promise but failed to deliver for me. I would recommend it –it's good quality writing after all. It just didn't work for me all that well.

 Amazon Global Author Link GoodReads More Author Reviews

Advanced Review Copy
Galley copy of provided by in exchange of an honest review.