Today GBR is happy to be interviewing Brad Vance, author of the second book in the "Game Players" series, after
Hi Brad, thank you for agreeing to this interview. Tell us a little about yourself, your background, and your current book.

Thank you for having me!
Why did you choose to write M/M stories?
Write what you know, right? Being a gay man, I knew I had an inside track as far as understanding the male libido. I've always had a rich sexual fantasy life, so getting paid to put those fantasies on paper was a win-win.
What inspired you to write your first book?
The absolute certainty that it would be immediately accepted by the first house I sent it to and published to thunderous acclaim! Which it wasn't because my first book was terrible. I was just 20 years old, and I was a clerk at a Federal bureaucracy dealing with Federal lands in the US West. I wrote a love story about a cowboy who falls in love with…a clerk at a federal bureaucracy! It's long lost now, but it was a learning experience. My first attempt at putting my fantasies on paper, I see now.
When and why did you begin writing?
I knew from the time I could write that I wanted to write for a living. I was writing stories in the second grade. I really was born to do this – there were other things I could see myself doing for a living, but there was never anything else I wanted to do for a living.
What are you current projects?
My next book is "On My Honor," about a star-crossed love between a biracial journalist and a white cop who's caught up in a wrongful death case. It's going to touch on some racial issues, though I'm working to keep the tone more "thrilling" than "deep."
After that, I've got "Other Than Honorable," about a military hero who was tossed out of the Navy during Don't Ask Don't Tell, and the way that messed him up. That's still in the subconscious cookpot, so I don't have much more detail than that yet.
And of course, a third Marc and Jesse adventure, the details of which I have no ideas at all yet.
Off topic: What secret talents do you have?
I can predict the punchlines of most jokes. I try not to use that too much, because people really hate you when you ruin their jokes.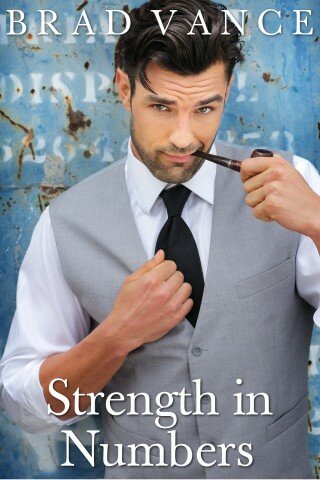 Title: Strength in Numbers (Game Players #2)
Author: Brad Vance
Publisher: Self-Published
Release Date: February 10, 2016
Genre(s): BDSM, Contemporary, Crime Fiction, Erotica, Fiction, M/M Romance, Mystery, Romance, Thriller
Page Count: 192
Cover Artist: Brad Vance
Reviewed by: Crabbypatty 5 stars!
Blurb:

They're back! In their first adventure, Marc Julian, software billionaire, and Jesse Winchester, hacker extraordinaire, survived the evil plans of the Krom brothers and Jesse's first lover, Chip. But Jesse has old debts to pay to Russian gangster Leonid Ivanov. Now Leonid is calling in those debts, demanding that Jesse find a great treasure for him, and a new game is set in motion…

The mysterious "Satoshi," creator of the cybercurrency Bitcoin, has been hiding $375 million worth of the currency for years. But now, he has chosen to start a quest for the keys to the Hoard, and he who controls the keys controls the fortune. And this will be a quest that will test the strength, the will, and the character of those who pursue it.

But Marc and Jesse aren't the only ones on the hunt, as old enemies resurface to try and beat them to the treasure… And even if they reach it first, they must ask themselves – do they really want to give a Russian gangster $375 million to pursue his deadly enterprises? And what would be the consequences if they don't?

The pursuit will take them from Andorra to Barcelona, through the museums of Tokyo, the streets of Buenos Aires, and the coast of Mexico, in a desperate and dangerous race to keep the fortune in digital gold from the hands of all their enemies…
Excerpt
Marc smiled as he made clinking sounds in the galley of his private jet. He already had the black slacks on, so it was the work of a moment to take off his polo shirt and slip into the white epauletted button-down short-sleeve shirt of a steward. The wings were already attached to the lapels, and he'd even had a name tag made.
"Here you go, sir," he said as he handed Jesse his drink on a tray. Jesse was already involved in something on his phone, and he absentmindedly reached for it.
Then he paused, sensing that something had changed. He looked up to see Marc dressed as an airline steward, his eyes dancing with heat.
Marc didn't smile as he said, "Is there anything else I can get you, sir?"
Jesse swallowed. "Maybe a warm blanket."
Marc took the drink from his hand. He pressed a button on the side of Jesse's chair.
"The seat fully reclines into a bed, sir. Let me make you comfortable."
As the seat back flattened and the base lifted Jesse's feet up, Marc pushed another button, and the chair's arms lowered out of the way, which gave him room to straddle Jesse's hips.
He put his hands on Jesse's chest, and Jesse reached up to finger his collar. "How did you earn those wings, steward?"
Marc idly stroked Jesse's hand where it lingered on the wings. "Oh, those, sir? For achieving membership in the Mile High Club. Are you a member?" Marc began to grind his ass against Jesse's crotch, feeling the transformation below his slacks.
"You know, I am not. I've never been invited to join."
Marc leaned in to whisper in his ear. "Let me be the first to welcome you, then."

 Amazon Global Author Link   GoodReads More Author Reviews
Meet Brad
Brad Vance writes gay romance, erotica and paranormal stories and novels, including the breakout hits and Keep up with Brad at BradVanceErotica, email him at , and friend him on Facebook at .