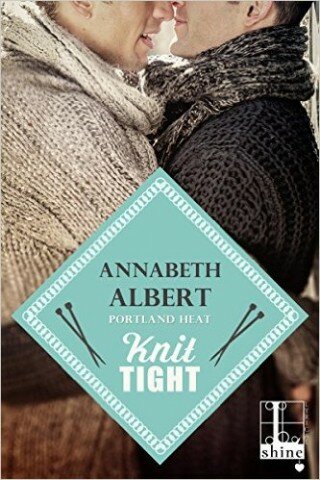 Title: Knit Tight (Portland Heat #4)
Author: Annabeth Albert
Publisher: Lyrical Shine
Release Date: April 12, 2016
Genre(s): Contemporary
Page Count: 112
Reviewed by: Lili
Heat Level: 2.5 flames out of 5
Rating: 4 stars out of 5

It's no secret that Portland, Oregon, has some of best restaurants, shops, and cafés in the country. But it's the hard-working men who serve it all up that keep us coming back for more…

One of Portland's hottest young baristas, Brady is famous for his java-topping flair, turning a regular cup of joe into a work of art. Every Wednesday—aka "Knit Night"—hordes of women and their needles descend on the coffeehouse, and Brady's feeling the heat. Into the fray walks a tall, dark, and distractingly handsome stranger from New York. His name is Evren, and he's the sexy nephew of Brady's sweetest customer, the owner of the yarn shop down the street. He's also got a killer smile, confident air, and masculine charm that's tying Brady's stomach in knots. The smitten barista can't wait to see him at the next week's gathering. But when he tries to ask Evren out, his plans unravel faster than an unfinished edge. If Brady hopes to warm up more than Evren's coffee, he'll have to find a way to untangle their feelings, get out of the friend zone, and form a close-knit bond that's bound to last a lifetime…

Knit Tight is the fourth installment in the Portland Heat Series by Annabeth Albert. In this fourth book, Brady finally gets his happily ever after. He's at a point in his life where he's stretched thin. He's a 23-year-old who is raising his younger siblings after the death of his mother and step-father. It's during this time one of his favorite customers- Mira is fighting cancer and her nephew Evren comes from New York to Portland to help her.
Right off the bat, I'll tell you if you're going into this book expecting one of Annabeth Albert's fluffy feel good vibe stories- you'll not get one here. This story carries a sad undertone. We have a young man struggling to keep his family together, and another trying to help his dying aunt who took him in after being shunned by his Turkish parents for being gay. There're many obstacles for these two, and then you have to add Evren's bi-phobia. Evren is OK with being friends with Brady but is reluctant to take their budding friendship beyond that.
My highlights:
*Brady. I loved his personality. He was loving and loyal and brave. Despite knowing first hand what a bitch life can be he was still willing to put himself out there and fight for his happiness.
*Evren. Although he could come across as cold- I got him, and it was nice to see him open up as the story progressed.
*Relationship development. I just loved the way the author advanced their friendship into more.
*The stolen moments. They'll get me every time. They always give me butterflies.
*The melancholy feel of the story. Sometimes this works for me and sometimes it doesn't. It suited my mood here, and it was also nice to see Annabeth Albert branching into something a little different from her norm.
*Evren's blog posts. You see the book is told strictly from Brady's point of view, and the blog posts gave us an insight into Evren's changing feelings.
*The end was a solid HEA.
But there is one thing that bugged me- a lot. Mind you this could be considered a spoiler so read at your own risk.
Spoiler

Evren never said "I love you" to Brady. Yes, his actions showed us he did. Yes, they got married at the end. But the hopeless romantic in me needs that moment in the story. I also think the story needed that moment due to Evren's fears about Brady's bisexuality and his reluctance to allow Brady in to help him. Plus, it's one of my favorite parts, so I felt a little let down that it wasn't there.
Steam. People always want to know- including me. This one is not too steamy folks. Stolen moments here and there but that's about it.
As far as this being the fourth book in the series- can you read it without reading the rest? Absolutely.
In the end, I found this a touching story about family and perseverance and of opening your heart to others despite being afraid. All in all, I'll give this book 4 Healing Stars.

Portland Heat Series

 Amazon Global Author Link GoodReads More Author Reviews

Advanced Review Copy
Advanced review copy of Knit Tight provided by author through NetGalley in exchange for an honest review.