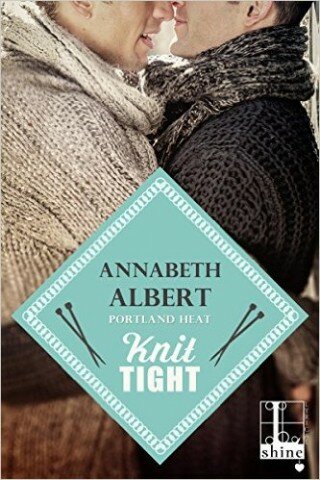 Title: Knit Tight (Portland Heat #4)
Author: Annabeth Albert
Publisher: Penguin Group
Release Date: April 12, 2016
Genre(s): Contemporary
Page Count: 112
Reviewed by: Renée
Heat Level:  4 flames out of 5
Rating:  3 stars out of 5

Blurb:
It's no secret that Portland, Oregon, has some of best restaurants, shops, and cafés in the country. But it's the hard-working men who serve it all up that keep us coming back for more…

One of Portland's hottest young baristas, Brady is famous for his java-topping flair, turning a regular cup of joe into a work of art. Every Wednesday—aka "Knit Night"—hordes of women and their needles descend on the coffeehouse, and Brady's feeling the heat. Into the fray walks a tall, dark, and distractingly handsome stranger from New York. His name is Evren, and he's the sexy nephew of Brady's sweetest customer, the owner of the yarn shop down the street. He's also got a killer smile, confident air, and masculine charm that's tying Brady's stomach in knots. The smitten barista can't wait to see him at the next week's gathering. But when he tries to ask Evren out, his plans unravel faster than an unfinished edge. If Brady hopes to warm up more than Evren's coffee, he'll have to find a way to untangle their feelings, get out of the friend zone, and form a close-knit bond that's bound to last a lifetime…
I am a HUGE fan of this author, but this story didn't quite do it for me like her other stories. We had a great start while we were introduced to Brady, a 23yo barista with some links back to previous characters in the series. He and his 18yo sister are raising their other 3 siblings after the death of their parents. And every Wednesday evening, a large knitting group of women come into his coffee shop to convene.
It's during one of these "Knit Nights" that a walking wet dream of tall, dark, and handsome walks in with his aunt – Brady's favorite customer. This aunt helped to raise Evren, and she's battling pancreatic cancer. Evren moved home from NYC to care for this special person in his life.
So, we get two incredibly selfless MCs right from the start. Pure hearts, these two. And they immediately begin the eye contact, back and forth with the *looks* and smiles and flirting. It was so endearingly swoon-worthy.
My swooning halted pretty quickly when Ev puts the breaks on any chance of dating. See, he finds out Brady is bisexual and has a rule for himself after being burned in the past. It's handled well for his reasons why – not that they're valid or not stereotypical- but they're realistic and apply to a lot of people. But my swooning didn't necessarily stop there….maybe just paused. The stopping came with this little revelation from Ev:
"Ah. You don't bottom? Don't take this the wrong way, Ev, but I'm pretty sure both New York and Portland are filled with guys dying for you to top them." Take me, for instance.

"I do not. Or top. Much."

Now there was an interesting wrinkle. I sat up, hands on my knees. "So no bi guys, no drama, and no anal? That's quite the list, Ev."

"Like I said, I'm…hard to please."
I won't apologize for the fact that fucking – penetration – is my second favorite part of sexual interactions between my MCs, right behind kissing. Combined with the judgment and prejudice about bisexuals, and I wasn't feeling much love for Ev at this point. Even though he's awesome for moving to care for his beloved aunt.
Don't get me wrong, the writing was still spot-on amazing, just like I expect from Albert. And I wasn't entirely *worried* at this point because she's one of those authors who can make me love this judgey guy who won't give me any anal. And the fact that this romance was multi-cultural, bringing in Turkish-isms and endearments – well I was still enjoying all that with this great writer.
But I have to say that I never warmed up to Evren. He and Brady have some amazingly tender, sweet, and HOT moments. Seriously hot. But he always kept Brady at arms-length. So I can't say that I was able to be "brought around" to even liking him as an MC.
Additionally, the drama with Brady's sister was handled realistically, as an 18 yo would react to their current situation of raising 3 kids. Not that she didn't work my last nerve, but it was realistic.
The HEA is….sweet. It just wasn't great. Probably because I wasn't loving Ev still, so it could be tinted with my feelings. A solid HEA though, not a HFN. I just felt like Brady was compromising for Ev the entire story with regard to their relationship. And Evren just…..wasn't. He was who he was, and that was it.
So, I'm settling on 3 stars. I liked it – I just didn't love it. I still enjoyed the overall story, and you won't ever be disappointed in Albert's writing style. If you're a fan of hers, I'd still recommend.
Portland Heat Series

 Amazon Global Author Link GoodReads More Author Reviews

Advanced Review Copy
Advanced review copy of Knit Tight provided by author through NetGalley in exchange for an honest review.