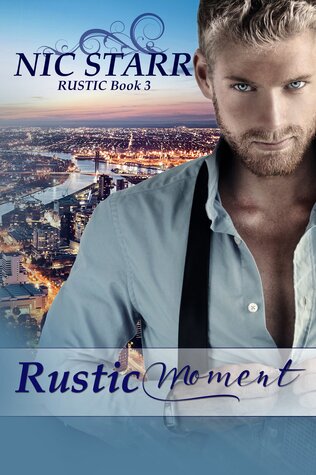 Title: Rustic Moment (Rustic #3)
Author: Nic Starr
Publisher: Self Published
Release Date: April 15, 2016
Genre(s): Contemporary Romance
Page Count: 151
Reviewed by: Crabbypatty
Heat Level: 3 flames out of 5
Rating: 4 stars out of 5
Blurb:

Betrayal, heartbreak, and financial ruin are only the beginning.

The last few months have been tough on Grant Parnell. He discovered his boyfriend was having an affair and it's taken its toll, both emotionally and financially. With his business facing ruin, Grant could lose everything.

Dave Monroe is excited to start a new phase of his life. He's following his dream and pursuing an exciting career opportunity. When Grant visits his friends in the country and finds out Dave might be moving to Melbourne, he offers him a place to stay. For Dave, life's looking good.

Dave had only met Grant a couple of times before moving in with him, but the simmering sexual attraction is undeniable. As he settles into Grant's home, deeper feelings develop. It's hard not to fall for Grant's gorgeous exterior, but it's the strong man underneath who captures Dave's heart.

Grant always craved success. His business and his home are testament to just how far he's come, proving his family wrong and making something of himself—or he had. Now everything is falling apart. As Grant's world spirals out of control, Dave is the one sure thing in his life.

But if they are to have any chance at happiness, Dave will need to teach Grant what's really important.

Rustic Moment, the third book in Nic Starr's Rustic Series, takes place in Melbourne, a nice change of setting from the first two books which were set in and around Armidale, a small Australian town in New South Wales.
Ty's good friend Grant Parnell invites Armidale native Dave Monroe to stay with him in Melbourne while Dave works a short-term construction job in the area. Dave – six foot two inches of Aussie country boy, tanned and muscled and a little bit wild. Close-cropped dark hair, a strong jaw with a five o'clock shadow and a smile that knocked Grant for six – shakes up Grant's world, for the better. Grant is recovering from betrayal on a personal and professional level – his (ex-)boyfriend John dumped him for Douglas, his (ex-)business partner who was stealing money from their business.
Dave and Grant settle into an easy friendship, but there is a strong undercurrent of attraction between the two men. And once they act upon that attraction, they burn up the sheets.
Dave was his opposite in every way. Size was the obvious difference, but they were chalk and cheese in other ways too. Country versus city, and Dave was a blue collar worker at that. […] But when Grant looked at Dave and spent time with him, those things didn't seem to matter. He was charming, funny, and interesting. And totally sexy. Like "can't get him out of my mind" kind of sexy.
The story moves along at a good clip and keeps us focused on Grant and Dave, although I thought Grant's ex-John makes one too many appearances (we get it – he's annoying and Grant is so much better with Dave). There was also some appalling communication issues between the main MCs which seemed unnecessary other than to fuel the plot a bit more, but these are minor things in the long run. The ending was very satisfactory, and Rustic Memory is a good solid read in the Rustic series.

 Amazon Global Author Link GoodReads More Author Reviews

Advanced Review Copy
Galley copy of provided by
the author
in exchange of an honest review.