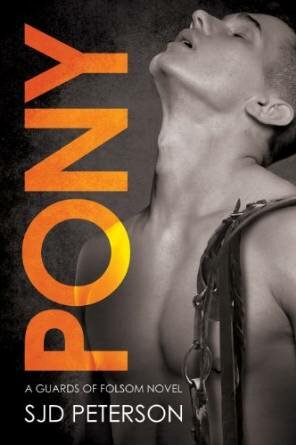 Title: Pony (Guards of Folsom #3)
Author: S.J.D. Peterson
Publisher: Dreamspinner Press
Release Date: December 30, 2013
Genre(s): Contemporary, BDSM
Page Count: 200
Reviewed by: Gigi
Heat Level: 4 flames out of 5
Rating: 3.3 stars out of 5
Blurb:

Grant Maxwell, aka Max, wakes to find his coffeepot has died in the night. Not one who can start his day without his favorite brew, he heads to the local coffee shop. Max finds something even more appealing than caffeine in the form of a twenty-six-year-old hottie Aiden James. For the first time in his life, well-established, confident and respected Dom Max finds himself sputtering and unsure in the face of Aiden's charms.

Aiden lives with three roommates, works a dead-end job, and isn't sure where his life is heading, that is, until he meets Max. Max introduces him to a foreign yet intriguing lifestyle, and they soon discover they have something more than mutual attraction in common.

A shared kink is one thing, but Aiden's past vanilla sexual experiences as well as his fear of losing himself in Max may keep Aiden from experiencing his fantasy. Max has an obstacle of his own to overcome. He must somehow figure out how to help Aiden explore his submissive side when, for the first time in his life, he's head over heels in love.
I'm going to make you my pony. Gonna ride you, fuck you, beat you, because it's what I want. What I need. What pleases me.Grant Maxwell
This one started off kinda shaky for me. I found Max to be overbearing and a bit creepy, but he grew on me and I ended up enjoying how much he loved and cherished Aiden. I adored Aiden and watching him and Max explore their mutual kinks was hot as hell! Their relationship was insta-lovey but I bought it because of the passion these two expressed and had for each other.
There was glaring annoyance that had me dropping a star.
Spoiler

We only got one pony play scene! Come on, the book is called PONY and we only get 3-4 pages worth?
If you like your BDSM with passion and emotion, this is the book for you. It had a few flaws, but if you can get over them, I can recommended Pony.
Guards of Folsom Series

 Amazon Global Author Link GoodReads More Author Reviews