Gay Book Reviews is pleased to welcome Annabeth Albert to the blog today talking about her latest book :
The power of the road trip
Throughout my #gaymers series, the various couples undertake literal journeys that mirror the emotional growth they must undergo along the path to their HEA. In STATUS UPDATE, Noah and Adrian confront a blizzard together. But for BETA TEST, I wanted something a little different. I wanted a classic summer road-trip, and I wanted an opposites-attract couple forced to take the trip. Thus, I put Tristan and Ravi in a rental truck driving their employer's tradeshow exhibit from LA to Seattle.
When I started brainstorming, I made a list of all the road-trip elements that I love in books and movies: road food, arguing over music, unexpected delays, forced room sharing, car trouble, local humor, and more. Then I set out to incorporate all those elements into the book. And the result is a book that I'm extraordinarily proud of. By the end of the trip, Tristan and Ravi aren't the same people who start the journey as near-enemies, and for them the complications are just beginning.
Real life can be this way sometimes too. Thirteen years ago, I had known a particular guy about a month when he proposed a cross-country road trip from the Midwest to the West Coast. My family thought I was insane agreeing to this plan, and as we set out in his tiny hybrid (these were new back then!), I really didn't know what I was in for. We encountered a horrific thunderstorm in South Dakota, one where we couldn't see the road ahead and had to work together to get to a safe pull-off. It ended up being a defining moment in our relationship as we proved that we could problem solve together.
I tried to give Tristan and Ravi a number of defining moments like that because sometimes you don't know how strong of a couple you would make until you face adversity. In my case, we learned so much about each other on the trip from finding mutually acceptable food to finding places our musical tastes overlapped. But mainly, the wide open spaces surrounding us gave way to some really intense conversations. There's something really interesting that happens when you're on a long trip with nothing to do but talk. And it's different than party small talk or office small talk—you can have real, deep conversations.
Tristan and Ravi's conversations are some of my favorite parts of the book because I really got to know the characters as people during those sections. I wanted them to gradually come to a new understanding and appreciation for each other over the course of their trip. As for me and my leap-of-faith road trip? We just celebrated our thirteenth anniversary. Sometimes the payoff for undertaking a journey really IS worth it.
How about you? Any significant road trips in your past? Do you like road trip movies and books?
~Annabeth Albert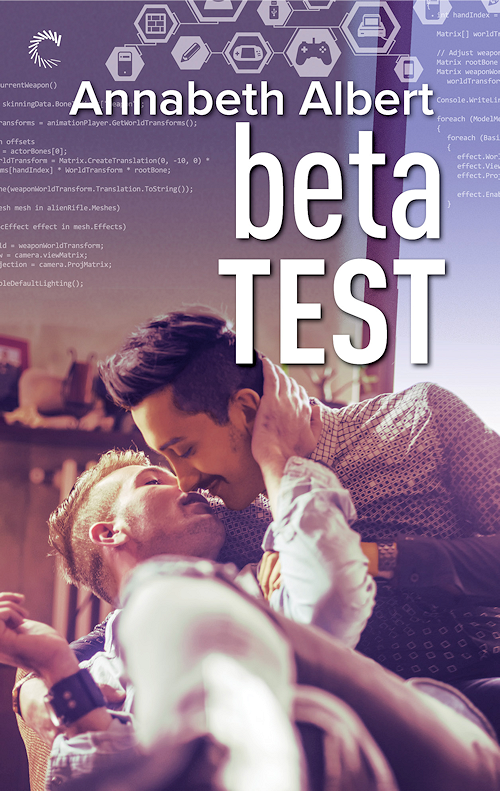 Title: Beta Test (#gaymers #2)
Author: Annabeth Albert
Publisher: Carina Press
Release Date: May 30, 2016
Genre(s): Contemporary Romance
Page Count: 178
Reviewed by: Crabbypatty, Lili and Belen
Blurb:

Ravi Tandel is ahead of the game. He's a top video game developer and he just got asked to present a top-secret project at a huge gaming conference in Seattle. All systems are a go…until he learns his office nemesis is coming along for the ride. Player vs. Player. Fight!

Newly minted MBA Tristan Jones doesn't seem like the gaming type but he knows the business inside-out. Together, they'll give an awesome presentation – they just have to survive the cross-country trip. Ravi's opinion of Tristan is rebooted when he discovers a softer side to the conservative charmer and a new tension builds between them.

Despite their best efforts to keep it casual, things heat up quickly. Tristan is hiding his true self for fear of what his parents might think. Ravi knows that feeling all too well, but he didn't disconnect from his family years ago only to hide who he is now. To be together, Tristan has to push past his fear and ultimately decide, does he want a future with Ravi? Or is it game over?
Excerpt: First Kiss
Knock. Knock. A knock came from the connecting door, startling Ravi into hopping off the bed.

…I loved the HEA ending and look forward to the next book in the #gaymers series!CP's Review
"Tristan?" he called before unlocking the door.
"Yeah," came the muffled reply.
"What's up?" As he opened the door, he realized that he didn't even have a shirt on. After his shower, he'd pulled on a pair of Star Wars lounge pants that Avani had given him on his last birthday. He wasn't a modest guy, but this was a bit…exposed for a late-night encounter.
"Um. Not much." Tristan stood there in ridiculous blue plaid pajamas and bare feet, hair still damp and sticking up at weird angles. The overall effect should have been one of Tristan escaping from whatever retirement compound Elmer called home, but instead Ravi found it endearing.
You're so screwed, man.
"Not much?" Ravi raised an eyebrow. "But you knocked?"
"Um. Yeah." Tristan scratched his neck and shuffled one foot. "My room stinks."

This is a charming story about family, self-discovery, understanding, and love. 5 Stars. Highly recommend.Lili's Review
"Your room stinks?" Ravi had to stop himself from laughing. As far as pretexts went, that was pretty darn lame, high-school-campout-worthy stuff.
"It really does." Tristan gestured, and Ravi followed him in and took a deep sniff. Yeah, the room did smell pretty funky.
"O-kay." Ravi drew the word out. "Why don't you call the front desk? This is a pretty big place, and it's the middle of the week. I'm sure they can find you a different room."
"Sorry. I didn't mean to bother you." Tristan did the shuffle thing with his foot again. "Never mind."
"Tris." Ravi grabbed Tristan's shoulders when he tried to turn away, forced him to look at him. "What's really up?"
"Nothing. I was thinking we could watch a movie in your room, but you're right, I should call for a new room."
"That's what you want? To hang out with me?" Ravi took a step forward, not dropping his hands from Tristan's shoulders. He could feel his warmth even through the soft blue cotton. Their bodies were mere inches apart now. Tristan's gaze went straight to Ravi's mouth before he licked his own lips.
Oh fuck. Killing me, Tris, you really are.
"I've got a movie on," Ravi said softly, making no move toward his room or to step away from Tristan. There were a thousand reasons why he needed to step away, get Tristan to call for a new room, and stop the energy arcing between them, yet he couldn't seem to find the one that would get his feet to move.
"Yeah." Tristan's exhale ghosted across Ravi's face. His eyes continued to look as though they had a tractor beam on Ravi's mouth. "That's good."

I have to tell you: this story, the whole thing: characters, plot, sexy times…Belen's Review
"I've got no clue what the movie is." Ravi laughed shakily.
"That's okay." Tristan moved, subtly leaning forward before retreating a millimeter, like he wasn't quite sure how to close the gap between them.
Ravi knew, but there were a whole host of reasons why he should retreat and lock the door behind him, put a hotel's worth of distance between himself and temptation. But he didn't move back, instead doing what Tristan was shuffling toward and closed the distance between them, claiming Tristan's mouth like he'd been obsessing about for two days now.
Okay, okay, perhaps a bit longer than that, if he were honest with himself. Tristan was fussy and prissy and so not Ravi's type, except he was cute and endearing and eager to please and…
Oh fuck it. They were so doing this thing.
Ravi's lips slid softly over Tristan's, hands coming up to cup Tristan's face. His skin was smooth and slightly slippery, as if he'd shaved earlier. Tristan gave a little sigh as their lips collided, a happy noise that went straight to Ravi's dick. Tristan tasted like a minty memory from Ravi's teen years, a simple, classic taste that totally fit with the rest of Tristan's persona.
And the way they fit together felt like a different kind of memory—like they'd done this before and yet never before in the same instant. Brand-new and achingly familiar. And far, far too sweet for Ravi's blood.
Buy Links
| Amazon Global | | | Kobo | B&N
#gaymers Series
Gay Book Reviews is proud to be hosting the exclusive cover reveal of Connection Error (#gaymers #3), Josiah and Ryan's story, on June 8, 2016.
Author Bio


Annabeth Albert grew up sneaking romance novels under the bed covers. Now, she devours all subgenres of romance out in the open—no flashlights required! When she's not adding to her keeper shelf, she's a multi-published Pacific Northwest romance writer.
Emotionally complex, sexy, and funny stories are her favorites both to read and to write. Annabeth loves finding happy endings for a variety of pairings and is a passionate gay rights supporter. In between searching out dark heroes to redeem, she works a rewarding day job and wrangles two children.
 
Find Annabeth
Author Link
GoodReads
Contact
a Rafflecopter giveaway