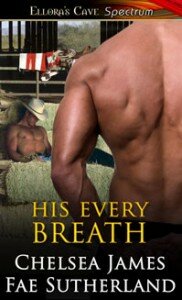 Title: His Every Breath
Author: Fae Sutherland and Chelsea James
Publisher: Ellora's Cave
Genre: Contemporary M/M
Length: Novel Plus
Rating: 3.5 out of 5 stars
         
THE BLURB         

When rough-and-tumble Trace Collins allows his buddies to drag him to a gay strip club for his birthday, he doesn't expect to find his soul mate. But it's love at first sight for Trace and he is immediately enthralled by the sexy young Adonis who's getting naked on stage.  Trace is determined to make that man his.         
Riley Beckett doesn't want anything to do with romance or love. Past hurts and a jaded attitude make Riley a tough nut to crack, but Trace is no quitter. He's determined to win Riley's trust and show him what real love means. Persistence pays off when Riley finally begins to thaw and it looks as though "happily" might just meet "ever after". There's only one thing standing in their way—the devastating secret Trace is keeping.         
THE REVIEW         
I delayed writing this review because although I really like Fae Sutherland's writing I didn't think His Every Breath, co-written with Chelsea James, came up to her usual high standard. So I re-read the book in case I missed a few nuggets. I didn't. 
The story starts out like many others I have read, with Trace Collins out for a night on the town at a local strip club, something that should have been a wonderful occasion because he was celebrating his birthday with friends. However, instead of enjoying himself he was wondering how the secret he was keeping would affect the rest of his life. To complicate matters, one of the dancers at the club, Riley Beckett, seemed to be the man of his dreams and Trace was determined to have Riley in his life, permanently. But Riley wanted no part of Trace, or a relationship with anyone else for that matter. 
Riley was dancing at Boyztown, a strip club in downtown Austin, Texas while waiting for his chance at the big time. Because he had been hurt before, he kept everyone at a distance. On the night of Trace's birthday he noticed him  watching his every move but he was not going to get involved so he stayed away. A month later Trace was at the club as he had been every night so far, just to watch Riley dance. At the end of his shift that evening the manager requested that he perform a private dance, something he didn't normally do. Over his protests he was told to humour the customer and when he entered the room he found his admirer, Trace, who had been giving him large tips during his dance routine that evening. Being told that he had to be nice to Trace didn't endear him to Riley but Trace wasn't giving up, and after convincing Riley's best friend Jenna of his honourable intentions she agreed to help him and so started Trace's courtship. Their intimate friendship continued on a rocky path for a while but Trace was persistent and eventually Riley decided to give him a chance, despite his reservations. 
As Riley and Trace began the process of getting to know each other better Riley made it abundantly clear at every opportunity that he was not looking for a relationship, all he wanted was sex, but Trace persisted in his quest to have Riley in his life forever. Eventually Riley's walls started crumbling and one by one his barriers came down but he still wanted an uncomplicated fling because he preferred his sex free and easy and he didn't think he and Trace would be a good fit because
Trace was looking for a serious connection.
Over several weeks, as Trace and Riley negotiated the boundaries of their relationship, it appeared that things might work out after all, even though the only sex Trace would agree to was oral sex unless Riley admitted he was in love with him, but one big problem still remained and that might prove to be too high a mountain to climb. Would Trace's secret be the breaking point for Riley and raise all of his trust issues again? Would one partner wanting sex, sex and more sex put a damper on any chance for a relationship without love on both sides?
I had several issues with this book. First of all there was "insta love" on Trace's part. Instant lust I could understand, but Trace fell in love with Riley the first time he saw him and would accept nothing less from him. Second, although I found Trace's character to be sincere I thought it was somewhat unrealistic. Third, Riley's character was very superficial and the two men were like oil and water. Riley was obsessed about his hair and other aspects of his looks. While some of this fixation about personal grooming is understandable in his profession since his body was his meal ticket, he was always polishing the apple and seemed to be concerned with his looks to the exclusion of almost everything else. There was so much emphasis in the book about the external appearance of both protagonists that I didn't get to know the real people behind the great looks. Also, Riley didn't appear to be interested in Trace, the person, he didn't even notice Trace's illness, he was selfish and self absorbed and judged every man based on one person who had lied to him in the past. Trace, on the other hand had a major issue that he was dealing with and I wondered why it took him almost to the end of the book before he shared this information with Riley, which of course had predictable results.
The other problem I had with the book was that Trace lived on a ranch but there was no staff or anyone else around as would be expected on a working ranch. My other concern about the characterization was that throughout the book Trace would only have oral sex with Riley until he said he loved him. So here are two gay men living together, one of whom (Riley) is climbing the walls and does everything he can to entice the man who claimed to be in love with him to give it up, but Trace continues to hold out. These men are young, they love sex, they are hot for each other, but Trace holds out for l-o-v-e before he would allow penetration to occur.  How realistic is that? I can understand this attitude from a young virginal female in a het historical romance but it wasn't realistic for a gay man who is accustomed to regular sex.
 I also had a bit of a problem with the pacing of the sub plots in the book which seemed slow at times but perhaps that's just because of the length of the book.
If you're a fan of either of these two authors you will probably like this book more than I did. As always this is just one person's opinion. His Every Breath is available now from Ellora's Cave.