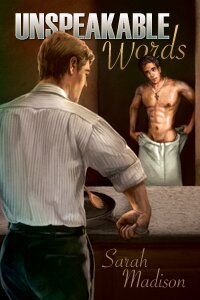 Title:  Author: Sarah Madison
Publisher: Genre: Contemporary M/M, mystery/suspense, paranormal
Length: Novella  (164 PDF pages)
Rating: 3.75 stars out of 5
Summary Review: You will definitely have to suspend disbelief to enjoy this story.
THE BLURB
Special Agent John Flynn is everything Jerry Parker is not: dangerously handsome, coolly charismatic, and respected by his peers. Special Agent Parker is dedicated and meticulous, but his abrasive personality has given him a reputation for being difficult.
When new information on a cold case appears, Parker is assigned to work with Flynn, and the sparks fly as their investigative styles clash. Contact with a strange artifact changes everything when it bestows unusual and unpredictable powers on Flynn… and the two men must learn to trust each other before a killer strikes again.
THE REVIEW

The plot of Unspeakable Words is difficult to believe in a contemporary setting so I took the liberty of adding "paranormal."
FBI Special Agent Jerry Parker was skillful and experienced at his job, as well as highly thought of by his superiors and colleagues, but he was always being pulled off his latest assignments just when they were getting interesting, never being given the opportunity to actually make the arrests, something he longed to do. He knew that he was valued for his research and investigative talents but he was tired of being re-assigned just when things were ramping up. It seemed that the department only valued him for his skills in one area, and he had been re-assigned more times than he could count. He had been overlooked for promotion several times because his interpersonal skills sucked and at this point in his career he was definitely feeling unloved. His latest meeting with his superior went along the same lines as always and his new assignment was to assist Special Agent John Flynn who was flying in to San Francisco that evening to start work on a cold case that was getting warm again, The Grimm's Fairy Tale serial murders.
When Jerry met Agent Flynn at the airport he was everything Jerry aspired to be but didn't have a hope of even coming close. Flynn was hot, charming, intelligent and it seemed he was  a golden boy who was going places in the department. He was also what Jerry didn't want, a man he desired to be up and close and personal with but there was no chance of him making it to first base since Flynn was definitely straight. Flynn was Jerry 's opposite, a sportsman, former champion downhill skier until he busted his knee, and he was the type of man who would appeal to both men and women.
The first problem they encountered after Jerry picked him up at the airport was the location where Flynn was booked to stay, which was in the seediest part of town. After a short argument they decided that Flynn should stay at Jerry's place for one night and the next day they would find him better accommodations. Jerry's apartment was like the rest of his life, neutral shades and everything arranged precisely the way he liked it. He was all about order and balance and his apartment and life reflected this philosophy. He fancied himself as a chef but even his cooking showed what a fussy, finicky person he was, and how obsessive he was about neatness and details.
Flynn's main reason for being in town was to interview a witness, a Mrs. Marsden, curator at the Weir, one of the smaller museums in the Bay Area, who claimed that she had vital information about the GFT murders. They set up an appointment the next day to get her statement but she rescheduled for that evening.  When they showed up at her place of work, they couldn't find her and while they were looking around they touched a  small gray artifact that began to tip over. Flynn tried to grab it and caught it midair as it was falling. The artifact lit up with a brilliant blue-green glow that pulsed outward as some sort of energy wave danced up Flynn's arms and enveloped him, giving him an electrical charge which caused him to collapse. As if Flynn's injury wasn't bad enough there was no interview, because when Flynn had recovered slightly from his mishap they found Mrs. Marsden. She had been murdered and arranged to look like the other victims. Was she killed by the serial killer or was someone using the killings to mask a different type of murder?
What I really liked was the character growth in the book. Jerry started out as a man who was uptight, prissy, overly precise, obsessive about neatness and still suffering from being cheated on by his ex, which made it difficult for him to trust. When Jerry met John Flynn everything changed – from his cat Oliver who hated John in the beginning but fell in love with him, just like his master –  to his obsessive compulsive behaviour which underwent a shift as he realized that there was more to life than being neat. The only thing that was important was to have Flynn in his life. John Flynn on the other hand started out not being open with Jerry about his past and a very important cold case in his life, but he moved the yardsticks as he became personally interested in Jerry as more than his partner in solving the GFT cold case.
Some aspects of the book were very amusing as Flynn played with Jerry and his obsessions, but you will have to experience them yourself as the guys work out their very unusual relationship. You'll be surprised at the plot twists and turns of the book. Would you like Unspeakable Words? That depends …. on the extent to which you are willing to suspend disbelief
If you're looking for a book with lots of sex you will be disappointed. There is sex but it's in the end and that's quite appropriate, considering that Flynn was straight when he met Jerry and it took them a while to get to know each other. The romance was helped by Flynn's accident and you will have to read the book to find out why.
I enjoyed this book and the author's imagination, but there were loose ends and the mystery was unresolved, so though I wanted to give it 4 stars I couldn't and didn't. I suspect that there might be a sequel to tie up all those loose ends. However it was very funny and the cats, (yes they ended up with 2), made for a lot of light relief. Unspeakable Words would be of interest to readers who are looking for something different in a contemporary story.