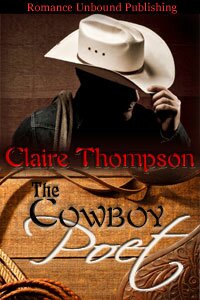 Title: The Cowboy Poet
Author: Claire Thompson
Publisher: Romance Unbound Publishing
Genre: M/M & M/M/M BDSM romance
Length: 122 pdf pages
Rating: 4.5 stars out of 5
A guest review by Jenre
Summary Review
A solid cowboy romance, with an interesting BDSM plot about facing up to your true nature without shame.
THE BLURB
Tyler Sutton can run all he wants from his past, but he's still got himself to contend with. Dark secret dreams of sexual submission continue to haunt the magazine reporter. The embers of his hidden yearnings burst into a bright flame of reality when Tyler meets Clint Darrow, the cowboy poet.
Clint, the foreman on a West Texas bull ranch, hides his dominant sensual nature behind the laconic, quiet persona of a true Texas cowboy. When the pair is thrown together in a search to uncover the culprit of a series of thefts at various local ranches, the connection is immediate and fierce. As they begin to explore their attraction for one another, Clint senses Tyler's need for sexual surrender. Clint must exert every ounce of self control to keep from pushing Tyler too far, too fast. When passion overtakes caution, the firestorm of desire that erupts between them threatens to burn everything in its path.
THE REVIEW
Told from alternating third person points of view, this story of older cowboy poet Clint and the attraction he feels to journalist Tyler is going to please those readers who like cowboy stories and also stories with BDSM-lite themes.
Tyler works as a journalist for Lone Star Magazine. He's on a big break, covering a poetry and music festival when he meets poet Clint. Tyler is attracted both to Clint's good looks and his poetry which had hidden meanings of dominance and power. This calls to Tyler's submissive nature, but also scares him because of past bad experiences with an aggressive man.
One of the plus points of this book was that I really liked both characters. I sympathised with Tyler, and his feelings of shame about the submission he craves. Clint often refers to Tyler as a skittish horse who needed gentling, and he was very much like that, in that one minute he seemed fine and the next his fears and insecurities would overwhelm him. Clint's a steadying force for Tyler, but I also liked that Clint wasn't perfect.  He makes a few mistakes and often allows his own hurt feelings to get in the way of seeing things from Tyler's point of view. There are occasions in the book where their lack of knowledge about each other leads to tension. This manifests itself in a set of small misunderstandings but in the case of this book it worked. Both men are also sensible enough to think things through and any problems are resolved fairly easily so I didn't feel any of the annoyance that I sometimes feel about misunderstanding plots.
Another thing I liked about the book was the Texan setting. These guys are cowboys through and through, and the love that both men feel for the wide-open spaces shone through the narrative. The Texan setting was also important in the way that the men behave and act towards each other in public, plus in the fear that Tyler feels about coming out to his family. It all felt very authentic to me, and I liked that this aspect was addressed without it overwhelming the story.
As with many of Claire Thompson's stories, the emotional content is high. This meant that the men fall in love quickly – perhaps a little too quickly for my comfort. The sweetness in the relationship was offset though by the scenes where Tyler struggles to face his past, and in fact the scenes towards the end of the book were some of my favourite.
This is a BDSM romance, but I would say that it's quite light in content. The focus is more on Tyler coming to terms with who he is, rather than heavy D/s sex scenes. I liked that Clint was very obviously in charge in the bedroom, but was still able to be a tender and loving sexual partner too. The sex is hot, and there is a ménage scene part way through the book. This isn't just gratuitous sex, but used as part of the plot later and so worked within the context of the story.
Overall, if you are looking for a cowboy story with sympathetic characters, then you can't go wrong with The Cowboy Poet. I enjoyed reading it and would recommend it.