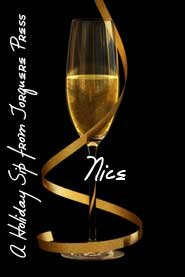 Title:
Author: DC Juris
Publisher:
Genre: Contemporary M/M, Holiday
Length: Short Story (6500 words/25 pdf pages)
Rating: 3 stars out of 5
A Guest Review by Cole
Review Summary: A well written story with likeable characters, but which is ultimately forgettable.
BLURB
A Torquere Press Holiday Sip

Alan takes the reins on planning a secret holiday getaway, but Jack isn't overly thrilled with being kept in the dark about their destination. Unbeknownst to Alan, Jack has plans of his own – plans to ask for Alan's hand in marriage. When an argument and Alan's disappearance get in the way of Jack's romantic intentions, is their holiday ruined, or can Alan make things up to Jack in time to still have a Merry Christmas?
REVIEW
Alan has finally found Mr. Right, but due to being abandoned in a house fire as his older brother saved himself and later a long string of pretty crappy boyfriends, he is covered by, and full of scars. Jack is supportive, loving, sexy, masculine, genuine and just about everything Alan wants and needs in a man. Jack however, has proven his trust over and over again, and it seems to him that if Alan doesn't realize the great thing that they have in each other, they just might lose it.
So both have planned their surprises — Alan has planned a vacation at a cabin in the woods where they can be completely alone and Jack is planning to ask Alan to marry him. Of course, Alan doesn't want any distractions during their time alone and he makes Jack promise he'll leave all ties to the outside world at home. However, Jack doesn't have the rings yet, and he's waiting on the call that will tell him when he can pick them up. He needs them by Christmas morning, when he's planning on proposing, and he doesn't even know where they're going. Will he even be able to get them? The trip is already turning into a disaster.
Okay, I'll stop here. I've only told you a couple more things than the blurb does, and I bet you can guess the plot already. Am I right? I was about 5 pages into this short story and I had already guessed the ending. Yep, the major plot device utilized the dreaded, Big Misunderstanding!   Now, I know how much you all are sick of this plot device — I am too. It has been used over and over again. The only consolation here is that this is a short story. What really bugs me about the big BM is during a novel when the characters spend years being stubborn dolts instead of sucking up their pride and just talking to each other. At least here, they have a much shorter window of time in which to correct the misinformation.
Short stories are incredibly difficult to write well. Because they're drastically smaller than a novel, every word, sentence, and paragraph has to be precise. There is no room for error. Also, we don't get to spend very much time with the characters, so unless they're so stellar that they jump off page one, we tend to forget them pretty quickly. That's why most successful short stories seem to be stylized around some kind of concept, or idea. Take "A Voice in the Darkness" by Patric Michael. The whole story is about a man trapped in a car talking to an angel.  The problem here is that with the limited amount of time and with an abundance of short stories to read everywhere, they need to offer something unique in order to get a leg up over all the others.  Sadly, that didn't happen here.  It just wasn't very interesting.  If we had found out about Alan's burns and self-punishment earlier in the story, or if it had been tied into the plot rather than a short bit to explain why he's insecure at the end of the story, we might have felt more attached to the characters.
I do give the story some credit, because while the characters hadn't become fully formed yet, they were on the way to being cool guys that I would have liked to read about. Also, the writing was smooth and done well. If you're looking for a good short, I'm sorry to say I can't recommend this one.