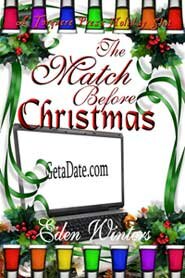 Title:
Author: Eden Winters
Publisher:
Buy Link: The Match Before Christmas
Genre:  Contemporary M/M, Holiday
Length: Short Story (14K / 57 pdf pages)
Rating:  4.5 stars out of 5
A Guest Review by Cole
Review Summary: A hilarious take on modern dating and one man's naive determination that no matter how many bad dates he goes through, Mr. Right is just around the corner.
BLURB
Candlelight, mistletoe, gaily wrapped packages beneath a trimmed tree, and someone to share it with. That's all Barry Richards wants for Christmas. Desperate for a traditional holiday, he takes drastic measures. Creating a profile on "GetaDate.com," he hopes to find the perfect man in a matter of weeks. One date after another goes sour, while all around him friends are falling in love, and Barry starts to lose faith.
The first snow falls and the world is filled with seasonal cheer, all except for Barry, for whom time is running out. Facing the prospect of a lonely holiday, he tries just once more to make The Match Before Christmas.
REVIEW
After learning that his parents are spending this Christmas on a cruise, Barry is bummed to be missing his favorite holiday and the comfortable traditions they share. Not wanting to intrude on his sister and her husband's Christmas without their parents there, Barry sets out to make his own Christmas wish — that when the holidays roll around, he will be able to show off his perfect boyfriend. The boyfriend that exists in Barry's head is so perfect, that when he signs up for an account at GetaDate.com, he has no doubt whatsoever that he'll end up just like the beautiful, muscle hunks on the website offering their testimonials. What follows is Barry's adventures through date after date of just about all of the worst men he could possibly be alone with: the man on the rebound, the married man, the man looking only for sex, and several other hilarious examples. He learns quite a bit with each date that leaves him unsatisfied, having been quite naive in the romance department. By the time he is about to give up, he starts to realize that maybe if he can't find the perfect guy, he can find the perfect guy for someone else. Adding a human touch to the impersonal data dump that is the online dating pool, Barry starts to become a matchmaker himself. And maybe, if he pays it forward, someone good will come to him?
I have to tell you that I laughed out loud so many times reading this story. Barry has a really unique voice that is snarky at the same time as being incredibly innocent. Every date he went into with blind eyes I wanted to grab him up before he really got himself into a mess. I especially loved that he could easily have been portrayed as stupid or immature, but he wasn't. He's highly intelligent, but because he had been focused on work, he's almost like a teenager dating for the first time. He is also an average Joe, slightly chubby with a nice face. He is very modest and at times I wondered if he was really a hunk, but because of self-depreciation thought he was ugly. The writing here is excellent as well, very witty. For example, throughout a meal with a much younger man who keeps bemoaning the loss of an ex named Jeff:
At the end of the meal, Barry's curiosity finally got the better of him. "What happened to Jeff, if you don't mind my asking?"

"Oh, he was found beaten to death in his apartment a month ago. But don't worry; I've been cleared as a suspect."

Barry raised his hand, frantically gesturing for the server. "Check, please!"
The only thing I thought could have been improved a bit was the amount of on-screen time Barry gets with Mr. Right once he's found him.  The ratio of pre-boyfriend and post-boyfriend Barry was off.  It seemed like his search was so long and fruitless and then when he finally meets the right guy, we only get a few scenes of them together.  I wanted to see them revel in their happiness a bit while we got to know them better. Maybe if we had seen the scene with Barry's family at the end…   Otherwise, I really loved this story.  Barry was a really engaging character who I would love to see again and again. He should have his own chronicle of adventures 🙂
Highly Recommended. Enjoy.