When I started my old blog I asked Josh for an interview – nothing like going straight to the top

I was so proud when he kindly agreed (he was being gracious as always) that I invited the world, at least that's how it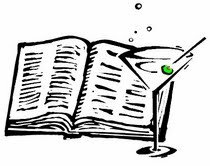 seemed, to send in questions to M/M's most famous author. I think he regretted granting that interview for years because there were SO MANY questions and I was very green, being new on the job. There were probably a hundred questions and it took him a week to answer them. :ahhh: So I thought that I would make it up to him for screwing up years ago by scaling back today. :skoal:
This is a special interview with Josh as he's taking a sabbatical at the end of 2011, I assume to regroup, rethink and renew – all of those things that people do on sabbaticals. But what I wanted to know from Josh was WHY he was doing this and whether there was any significance to the timing. So let's start there:
******************
Hi Josh. Thank you for agreeing to this short interview as you're packing for parts unknown. If you're going on a cruise to Hawaii I would like to come along as your cabin person. :escape:
Hello, Wave. It's always a pleasure to chat with you and your five million readers. (very funny Josh)  😀 Could you do me a favour and click the locks on my suitcase while I sit on the lid and try to keep it closed? 😆 [I guess I was lucky you didn't shove me into the suitcase and then sit on it]
Most people take sabbaticals to study or regroup, so my first question is: Are there any specific reasons why you're going on a sabbatical?
This was a tough year. I lost people who were dear to me, people I had not made time for while I was getting my career up to speed. I did what we all do; I assumed there would be opportunity later. So I think those losses, that belated realization that we all have a limited amount of time, first put the idea in my head.
Secondly, there's a limit to how long anyone can do what I've been doing for five years — cranking out story after story — and still produce fiction worth a reader's time and money.
Short answer: er, yes, I'm going to study and regroup.  :blush:
My next question relates to timing. Why now? Is there a special reason why you chose 2012 to do this?
I guess I'm answering these backwards, but one reason why I'm choosing to do this now, is I'm trying to control the fall. I think a number of people would agree I've managed to write some of my best stuff in 2011, but I don't believe that anyone as mentally and creatively tired as I am will continue to produce the kind of work that I hope is synonymous with my name. As a matter of fact, I'm not sure I'd continue to produce anything at all. I had to pull the plug on one final project this year because it just wasn't in me to finish. The ideas are there, but when I sit down to write them, I just want to close my eyes and sleep.
Not a good sign!
What are you most looking forward to over the next year? Is it not being tied to a writing schedule for your latest book(s)? Is it having time for fun things? Perhaps you're planning to read all of those books that have been piling up on your bookshelves and e-reader? All of the above?
All of the above. I'm thrilled at the idea of writing whatever and whenever I please. I want to see friends I haven't had time for in years. I want to spend time with the people I love. And yes, I want to read and watch movies and maybe even take a trip or two.
I'm hoping that this break will renew both my creativity and productivity and that I'll be back in 2013 with wonderful new stories — stories that I'm excited about and that my readers will be excited about too.
What are you going to be doing in addition to some self publishing which I believe is one of your new projects?
Originally I wasn't planning on going into self-publishing on any large scale, but things happen, things change, and now I'm excited about the possibilities. But I hope to get most of that dealt with before the end of the year so that as titles revert to me, I can have them up and running again with minimal investment of time.
I also want to figure out my game plan for the next decade or so. My wish is to write less but perhaps concentrate on more complicated and in-depth works — beyond the existing series obligations I have. I want to have time to research without feeling rushed because some of the best stories and characters come out of the research itself.
I made an assumption that you will be taking off the entire year but I should ask whether you could clarify that. Is there a chance that you will get tired of all
this R & R time and come back before the end of 2012?
I've managed to avoid committing to anything for next year, so I do plan on an entire year without deadlines. But there's no way I could go a year without writing. I don't even want to. I just want to write at my own pace. So if I write something and it seems like a good time to release it (as in I find out I can't pay the mortgage without a new release every couple of months), I'll go ahead and publish.
On the other hand, I have zero desire to write anything at the moment, so it may take longer for that to come back than I realize.
Are you planning to do a bit of travel, and if so, do you have any specific locations in mind and do they serve your secret indulgence there, Irish coffees?

I'd love to travel, but no new releases will mean cutting back on expenses. So as much as I dream of trips to the Hebrides or Paris or back to Ireland, any traveling I do will probably be to visit friends here in the States. But hey! The best Irish coffees are the ones you drink with friends — or on those lazy Sunday mornings.
Your fans are already expressing concern that your sabbatical means you won't be writing at all during 2012. Could you clarify if we can expect any new books next year or if we have to wait until 2013?
The only story I can promise for 2012 is Green Glass Beads, which will be in the Irregulars anthology coming from Blind Eye Books in April 2012. I hope there will be at least an additional short story or two, but I don't want to make any promises that I'd have to break later on.
Last, whatever you will be doing during 2012, I hope you enjoy it. You deserve to have FUN! I understand that you will be making occasional posts here about your "adventures" in different areas during your sabbatical and I can't wait to read them.
Aw. Thanks, Wave. I'll definitely be around. And I'll send the occasional update on how the sabbatical and adventures in self-publishing are progressing. 
I must express my sincere appreciation to you, Josh, for all of the hard work you put into your essays on writing and other topics germane to our genre, including those published on this site, for the benefit of other authors as well as readers. I don't begrudge you the time you will be spending on personal projects but we will miss you. Once a month readers and authors eagerly check out your posts and they ask you numerous questions which you very patiently answer, even though this takes a lot of time away from your writing. On behalf of everyone here I want to say a huge "thank you."
Last, and most important, thank you for your stories which are a constant source of joy to me and your readers. We will miss you.

************
This is the shortest interview I have ever done. I'm sure that Josh is relieved as that leaves more time for drinking.
Josh's last story in 2011 is Lone Star in the Carina Press M/M Christmas anthology, Men Under The Mistletoe which was released on December 5.
Josh Lanyon's Contact Information
http://www.joshlanyon.com/
http://joshlanyon.blogspot.in/
Twitter: @JoshLanyon