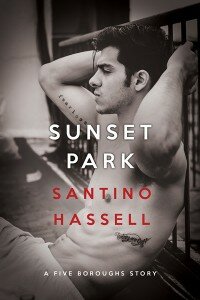 Title: Sunset Park
Author: Santino Hassell
Publisher: Dreamspinner Press
Release Date: December 11th 2015
Genre(s): Contemporary
Page Count: 230
Reviewed by: Ele
Heat Level: 4 flames out of 5
Rating: 5 stars out of 5
Blurb:


Raymond Rodriguez's days of shoving responsibility to the wayside are over. His older brother wants to live with his boyfriend so Raymond has to get his act together and find a place of his own. But when out-and-proud David Butler offers to be his roommate, Raymond agrees for reasons other than needing a place to crash.

David is Raymond's opposite in almost every way—he's Connecticut prim and proper while Raymond is a sarcastic longshoreman from Queens—but their friendship is solid. Their closeness surprises everyone as does their not-so-playful flirtation since Raymond has always kept his bicurious side a secret.

Once they're under the same roof, flirting turns physical, and soon their easy camaraderie is in danger of being lost to frustrating sexual tension and the stark cultural differences that set them apart. Now Raymond not only has to commit to his new independence—he has to commit to his feelings for David or risk losing him for good.
"There were only so many ways I could explain that he'd infiltrated every nerve, pore, and vessel of my being before it started sounding like I was comparing my unrequited feelings to an infectious disease.

But maybe that's what it was."

As a reader, my tastes vary from light and fluffy to gritty and angsty. My "all time favorites" shelf consists of books from both categories. But once in a while, a book will come along that will tug at my heartstrings a little bit harder and stay with me a little bit longer (or never leave). Both Sunset Park and Sutphin Boulevard are among these books.
And while, like most romance readers, I'm all about the HEA, I have come to understand that in Santino Hassell's books, it's all about the journey.
Gloriously flawed characters…
Refreshingly honest voices and MCs that make no excuses for themselves. And character growth…my God, such an amazing character development. Through blood and tears, Raymond and David grow up and I grew up with them, since I practically lived in their heads.
Raymond might be directionless but he's not a loser. He wants an honest blue collar job and respect… and David. And when he accepts this, he's fearless and brave.
"His affection wasn't just something I tolerated. I fucking craved it. It was strange how I could be so hungry for something I'd never known I needed."
And David…I hated the choices he made, but I loved him. And most importantly, I finally understood why he made them.
First kisses…


Smokey, tentative and experimental. Earth shuttering.
By far, one the best first kisses ever. You 'll find yourselves licking your lips.
So hot it burns…
It's the kind of passion that can't be contained and makes you forget where you are and who's in the next room.
So very urban…

You can tell that Santino Hassell's heart belogs to New York. I felt that . And I felt that mixture of melancholy, excitement and comfort you can find in a city that never sleeps.
No bullshit narrative …
Gritty first person POV and poignant words that flow effortlessly.
There is angst but there is laughter too. Hilarious grindr messages, affectionate touches and cuddling, and a nice dose of Michael and Nunzio (with his filthy mouth).
Bottom line, If you 're looking for glitter and fluff, look elsewhere. If you 're looking for real life heroes that don't shy away from their flaws, I can't recommend this highly enough.
Advanced Review Copy
ARC provided by the in exchange for an honest review