Title: (A Draegan Lords interlude)
Author: M.L. Rhodes
Cover Artist: Trace Edward Zaber
Publisher: Amber Allure
Buy Link
Buy Link:
Genre: fantasy, shapeshifters, romance
Length: novella
Rating: 5 stars out of 5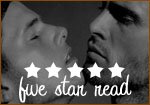 A Guest Review by Larissa
Review Summary: the Draegans are back! This time in a short, sweet but awesome interlude focusing on our second favorite couple: Wes and Wen and how they got together.
Blurb:
Having lived his entire life under the veil of the high sorcerer's repression, Wen Daneson grew up with a sword in his hand. Now, at twenty-eight, he's already earned the rank of second lieutenant in the draegan lord's guard and been granted the privilege of sitting on the lord's council of advisors. In spite of his achievements, he's made a point of keeping his distance from personal relationships. He's seen too many people develop close bonds and share their hearts, only to have everything torn apart with one slash of a sword. Which is why his attraction to the human Wesley Brannock unsettles him so much. There's something different about Wesley. Wen doesn't want to care about the younger man, but when he's tasked with training the inexperienced yet naturally talented Wesley for a position in the guard, being around him stirs powerful emotions he can't understand.
Wesley grew up living in secluded villages, learning at a young age to hide from prying eyes and keep to himself. Having spent most of his formative years with little company, when the settlement where he lives is attacked by the sorcerer's soldiers, he's frustrated that he doesn't have the skills to fight back. The draegans who come to their aide encourage the residents to relocate to the draegan camp, and when they do, a new world opens to Wesley. He's determined not only to learn how to protect himself but to join the draegan lord's guard and be part of something that matters. But when he's paired with the passionately intense Lieutenant Daneson, he begins to doubt whether he's suited for the guard at all. Not only does the lieutenant push him hard while never letting him close, keeping Wesley constantly torn over his feelings for the man, being around so many people after years of isolation makes it hard to keep the secret he's spent his whole life protecting.
On the eve of war, the two young men have to decide if facing their secret fears will destroy them or give them unexpected strength to face the coming darkness.
Review:
When I arrived at work this morning I wore a dopey smile, upon which my boss asked me: "What is his name?" I answered: "An Unexpected Magick." Of course my boss sighed and muttered something about me and books. But getting this book did make me very happy.
An Unexpected Magick once again takes us back to the fantastical world of Velensperia and M.L. Rhodes didn't disappoint!
This is the fourth book in the Draegan Lords series after True of Heart, Lords of Kellesborne and Fires of Ballian. Unlike the other stories, this short interlude focuses on everyone's second favorite couple Wen and Wesley ('cause let's face it, everyone noticed Wen and Wes in Fires of Ballian), instead of Gaige and Kieran. While I very much want to know what happens next in Gaige's and Kieran's adventures and Circle of Ariend is one of my most anticipated releases, I don't think anyone will mind this short shift in focus.
The story takes place during the events of Lords of Kellesborne and tells the story of how Wen and Wes came to be a couple. An Unexpected Magick can be read as a stand-alone, nothing is given away but a few minor details. Having read the other books, I can't recommend this though!
The focus is on both Wen and Wesley. The reader gets a better idea of who both characters are.
Wen is Martha's oldest son and recently became a second lieutenant in the draeganejhere, the guards of camp. Along with Gaige he is training new members and Wes looks promising in more ways than one. From the start there was a connection between the two, but neither dared act on it for their own reasons.
Wen is a smart, strong but caring draegan. He has all the qualities of being a good leader. He's been hurt in the past and it's holding him back with regards to Wes.
Wesley on the other hands lived a sheltered life and with good reason. He has a secret of his own. Despite this, he is smart, a fast learner and passionate. He's determined to become the best fighter he can be. Wesley is an endearing character. They both complement each other. Where Wen is strong, Wesley is passionate.
An Unexpected Magick is not a lengthy story. Despite that a lot happens, but not once is there a feeling of the story being rushed or the feel of it being too short. While I would have loved for the story to go another hundred pages, the length was just right. There are no open endings nor unfinished story arcs.
It is truly a well written story with solid, imaginative writing that keeps you firmly in the story. The writing is vivid in such a way that you feel like you are standing right next to Wen and Wesley.
And… it wouldn't be a M.L. Rhodes story without a steamy scene or three. Hot damn, they will melt your screen *fans self*
I could go on for a long time, telling you all the ins and outs of this story, but the fact is that you just have to pick it up for yourself!