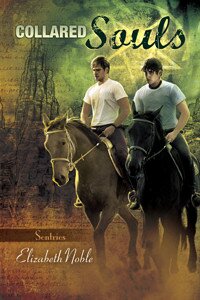 Today author Elizabeth Noble is offering an ecopy of her recent DSP release . Here's the blurb:
Sequel to Chained Hearts
Sentries: Book Four
Freedom is within reach for Todd and Nick Ruger, but their dreams of Elk's Ridge are dashed by Vice-Chancellor Raleigh's troops. With his mate imprisoned, Nick searches for help and finds an unlikely and unexpected ally. But Todd's release leaves them once again in debt to Chancellor Clarke.
Their mission sends them to the small village of Eldrid in search of a historic record of owners and slaves with unique abilities. Eldrid holds even more secrets from the past—including the origins of sentries—as well as conspiracies of the present that are set to launch a new battle that will turn lover helplessly against lover. Though Todd and Nick know the realities of war are hard lessons, it will be a fight to draw on the strengths of their bond, survive, and learn to forgive.
For a chance to win this book, please leave a comment on the post.