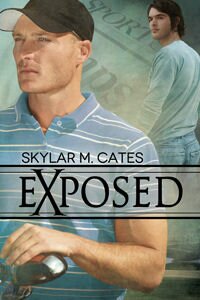 Title:
Author: Skylar M. Cates
Cover Artist: Reese Dante
Publisher:
Buy Link: ,
Genre: Contemporary
Length: 256 pages
Rating: 4 stars out of 5
A Guest Review by Andrea
Review Summary: Good writing, a well-paced plot, and relatable characters all combine to make a very good romance.
Blurb:
After years of running from a traumatic secret, young journalist Rafe Quintero is making his way in the world alone. Now that he's landed a job at a Miami newspaper, he's hungry for success. His goal? A blistering exposé on closeted PGA golfer Daniel Andrews. Rafe will stop at nothing to get the scoop—even if it means going undercover on Daniel's private yacht.
Daniel is used to being in the spotlight, but his reputation for being cold and unfriendly hasn't made him very popular. Still reeling from his mother's death and his ex-boyfriend's engagement, he hides out on his yacht to escape the press hounding his every step. His instant attraction to Rafe, his new crew member, is a problem he can't ignore.
When Rafe and Daniel begin a steamy affair, Rafe knows it's only a matter of time before Daniel discovers his betrayal. Now he has to choose: confess and hope Daniel can swallow his pride and forgive him, or put his ambition ahead of his heart and follow the story.
Review:
This is the type of book I have the hardest time reviewing. I think it's because there isn't one thing which stands out screaming for me to write about. Exposed is what I would call a solid book. The plot is good, the writing is good, and the characters are good. It's the combination of all of them coming together which make it work so well for me.
I guess I'll start with Rafe. He is 25 and has had a tough life. Rafe was just a teenager when his family threw him out. He has worked his ass off, and against all odds has graduated from college and land his first job as a reporter. Now he just needs to prove himself. What better way than to do an expose on an arrogant, entitled, and closeted golf pro? Rafe isn't going to spare any sympathy for a guy too scared to come out when he has money and a loving family to support him. Rafe did it with no support.  He's proud of how far he has come, and he has no respect for Daniel's situation.
Daniel is at a turning point in his life. In the past, he sacrificed his own happiness for the benefit of those he loved. The effects of his decisions are becoming more than he can bear. In the middle of a golf tournament, he made a split second decision to walk out. Now, he is hiding from the press while he figures out how to get his life back on track.
There are so many things to like about Exposed. Both Daniel and Rafe have their own complicated histories which cloud their judgment when they first meet. Then there is the nice, slow build of the romantic relationship between them. Of course, there is also the Rafe's deception throughout the entire thing which is constantly hanging over his head. I really appreciated that they had this great dynamic together, but they also have separate lives and issues which added another dimension.
It's a solid book, and I liked it.