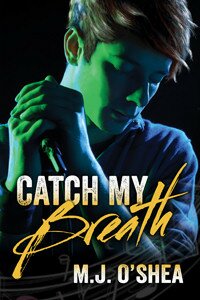 Title:
Author: M J O'Shea
Cover artist: L C Chase
Publisher:
Amazon buy link: Catch My Breath
Genre: Contemporary M/M romance
Length: Approximately 350 pages
Rating: 4.5 out of 5 stars
Guest review by Orion
Review summary: A wonderfully written, well-plotted gay romance.
Blurb: Danny Bright was born to entertain. He just needs his big break. So when he hears that Blue Horizon Records is holding auditions looking for the next big thing, Danny jumps at the chance. It doesn't turn out exactly as he imagined, though. Instead of getting solo contracts, Danny and four other guys are put into a boy band.
Innocent, idealistic Elliot Price thinks he's headed for college. An impulsive decision to sing in the local talent search changes all that. A bigwig producer happens to see him, hands him a business card, and turns Elliot's life upside down.
Elliot and Danny are close from the beginning. They love all the guys, but it's different with each other. Soon their friendship turns into feelings more intense than either of them can ignore. The other three boys only want Danny and Elliot to be happy, but when their management team and record label discover two of their biggest tween heartthrobs are in a relationship, they're less than pleased. Danny and Elliot find themselves in the middle of a circle of lies and cover-ups, all with one bottom line—money. They have to stay strong and stick together if they don't want to lose themselves… and each other.
Review: Loved it. That sums up my reaction to this wonderful romance. The two main characters, Danny and Elliot, meet after they both pass muster with a local record label and, along with three other guys, are forged into the America's latest boy band, Static.
The novel opens with Danny at his audition, where the two label representatives he faces are about as cuddly as Simon Cowell. We get a solid idea of just what kind of person he is when he overcomes his fear and sings his heart out. Being an entertainer is in his soul, something he wants more than anything else. He survives the first round and is called back with three other hopefuls, Reece, Webber, and Tate, where record producer Sasha reveals that he is considering them for the boy band he is forming. Initially, Danny isn't thrilled with the boy band idea, but this is his chance at the big time, and he's not about to blow it. The four boys just have to wait for Sasha to find the band's fifth member.
Then we meet Elliot. He's made out with a few girls and with a few guys, and he's realized that he likes making out with guys more, although he hasn't yet met the one guy who'll turn his world upside down. His best friend Sara talks him into singing at some local talent competition, and when he reluctantly takes the stage, he's certain he's going to make a complete fool of himself. He is surprised to discover that he not only has a significant talent, he enjoys singing in front of others. Sasha happens to be in the audience and quickly ropes Elliot in.
When Sasha introduces Elliot to the rest of the boys, Danny is immediately smitten. As the band takes shape and is groomed for stardom, Elliot falls for Danny. To make a long story short (literally), the boys become singing stars, the idols of screaming tweens across the country. And that's where the problems for Danny and Elliot begin. There are clauses in their contracts requiring them, essentially, to be straight. That only makes sense, at least from the record company's perspective, because it just might be a tad hard to market Elliot and Danny to teen girls when the guys are hot for each other. The record company twists them to its will, doing everything within its considerable power to make them into the image it wants. And that makes it mighty hard for the romance between Danny and Elliot to survive and grow.
That gives you the basic setup of this novel. The characterizations are excellent. The author gives us fully developed people here, including the other members of the band and Elliot's friend Sara. The writing is bright and full of wit. And the romance between Danny and Elliot is sweetly depicted. They pulled me right into the story, and I never stopped rooting for them as they struggled with their feelings for each other and the odious efforts of the record label to keep them from being true to those feelings.
The two main characters are barely out of high school, and this felt very much like a young adult novel at times. Since it was published by Dreamspinner Press and not under its young adult imprint, Harmony Ink Press, I am sticking with the publisher's categorization of this a contemporary male/male romance.  Given the boy band trope, however, I think this story would have been better served if it had been published as young adult fiction. It would have made the story available to the tween crowd that is the target audience of boy bands while still remaining accessible to adult readers.
My only complaint about this novel, as indicated earlier, is its length. It feels a bit overlong to me. There were points where I kept saying to myself, "Too much of a good thing."  The novel never actually becomes boring, but I think tightening the story and lopping off thirty pages or so would have made for an even more compelling read.
If you enjoy funny, likable characters in an angst-filled romance, that's exactly what you'll get here.